Lars Von Trier's Uncut Nymphomaniac: Volume 1 Will Premiere In Berlin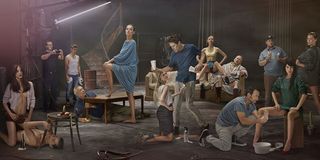 With Nymphomaniac, Danish filmmaker and top provocateur Lars von Trier has been steadily promising content too shocking for mainstream audiences. Former child stars in hard-core sex scenes? Check. Tales of sexual depravity of every imaginable and sordid sort? Oh, you bet. How about non- simulated penetrative sex onscreen? Why not. While any of the above is enough to rattle America's MPAA, it doesn't scare the Berlin Film Festival, where the film will screen out of competition.
THR reports the prestigious Berlin Film Festival will play host to the world premiere of to the director's cut version of Nymphomaniac: Volume 1. This is an intriguing new chapter in this provocative film's emerging development, as various cuts and concepts for release have been posed over the past two years.
Nymphomaniac stars recurring von Trier leading lady Charlotte Gainsbourg as Joe, the self-confessed sex addict for which the drama is named. After being beaten and left for dead in the street, Joe is taken in by a kindly stranger. With him, she shares her life story, full of twisted trysts, casual sex, and serious kinks.
When Gainsbourg first signed on to the project two years ago, the reported plan was Nymphomaniac would be cut in two versions. One would be a "hardcore" version, presumably showing whatever the dark corners of von Trier's mind it could come up with. The other would be a tamer version, on that's possibly easier for more casual von Trier admirers to digest. However, Joe's odyssey of sexual adventure ballooned into a runningtime of over four hours, and from there talk switched from two versions of one film to two volumes divided by chapters.
But after months of releasing titillating appetizer videos to tease out the film's eventual release, producers stunned us by revealing that von Trier had given up the film's final cut after his director's cut clocked in over five and a half hours long. From there, producers were looking to trim Nymphomaniac to four hours, and then split that running time in half for Volumes 1 & 2. This trimmed version is what is expected to debut in Denmark on Christmas Day. In the US, Magnolia will be releasing these volumes in two parts in theaters and On Demand next spring.
All this is to say that those who see Nymphomaniac in Berlin will be seeing the director's cut that those in the US and Denmark will miss out on. There's no mention of a world premiere for the director's cut of Volume 2. Presumably it will not screen at Cannes, as von Trier scorched the earth there when promoting Melancholia in 2011. At the time, he claimed, "I understand Hitler," among other shocking comments that got him barred and deemed persona non grata. Could another festival swoop in to scoop up Volume 2? We'll keep you informed.
Nymphomaniac: Volume 1 will be On Demand March 6th with a limited theatrical release following on March 21st. Nymphomaniac: Volume 2 will make its way to On Demand by April 3rd, with its theatrical run following on April 18th.
Staff writer at CinemaBlend.
Your Daily Blend of Entertainment News
Thank you for signing up to CinemaBlend. You will receive a verification email shortly.
There was a problem. Please refresh the page and try again.