LeBron James Keeps Space Jam 2 Hopes Alive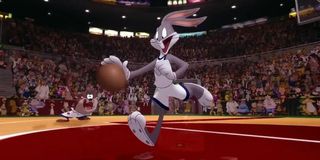 All signs seem to be pointing to Space Jam 2. Basketball legend Michael Jordan starred in the Looney Tunes-filled film of 1996, and there have been attempts by Warner Bros. to get all-star LeBron James in the lead role for a sequel. With a new deal struck between the studio and the athlete, both are better positioned than ever to make this a reality. While Space Jam 2 hasn't been officially announced yet, James's latest teaser-y update on the matter gives fans more hope.
James was asked by Twitter user @KingJRob21 whether or not we'd see him star in Space Jam 2. As you can expect, his response was rather cryptic, but not enough to suggest it won't happen at all.
Last year a report surfaced that stated the WB was teaming up the sons of Olympic exec Dick Ebersol to make a sequel to Space Jam with James succeeding Jordan in the lead role. However, Brian Windhorst, NBA reporter for ESPN, quickly debunked this story, saying that sources from within James's camp said there's no film in the works. Now, that's not to say there haven't been attempts in the past to make this happen.
LeBron James was recently bit by the acting bug, as he was seen playing opposite comedy greats Amy Schumer and Bill Hader in Trainwreck, his first feature film. Furthermore, he and his SpringHill Entertainment production banner announced a partnership with Warner Bros. Entertainment to create a number of projects together, including films, TV offerings and original digital content. SpringHill already produces content for Disney XD, Starz and NBC, but the WB venture perfectly positions him for Space Jam 2.
The original Space Jam featured Michael Jordan retiring from basketball to follow in his late father's footsteps by becoming a baseball player, though he quickly realizes he's not quite skilled at this sport. That's when he's pulled down by Bugs Bunny to the center of the Earth and into the animated world of the Looney Tunes. As it turns out, Daffy Duck, the Tasmanian Devil, Porky Pig, Tweety Bird and the rest of the gang are in danger of becoming enslaved laborers for an alien amusement park owner named Mr. Swackhammer. The animated characters challenged this villain to a game of basketball in an attempt to win their freedom, but Swackhammer stole the talents of Charles Barkley, Patrick Ewing, Shawn Bradley, Larry Johnson and Muggsy Bogues, and bestowed them to his own players. Now the Tunes need Jordan's help to win the game.
Space Jam 2 has been a talking point for years, and it's crazy to think that now, almost two decades later, this could actually come to fruition. We'll have to keep an eye out for LeBron James's next move, especially if he's going to continue to be as cryptic and teasing as ever.
Your Daily Blend of Entertainment News
Thank you for signing up to CinemaBlend. You will receive a verification email shortly.
There was a problem. Please refresh the page and try again.