Legendary Swings For The Fences With Another Baseball Pic One Shot At Forever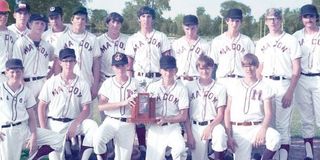 Legendary Entertainment has mostly co-produced pics with Warner Bros. But the Jackie Robinson biopic 42 marked their first solo effort, and it paid off big, raking in $93 million domestic. So, THR reports, Legendary is eager to produce another baseball-centered drama. This time around their source material is One Shot at Forever: A Small Town, an Unlikely Coach and a Magical Baseball Season, which was penned by senior Sports Illustrated writer Chris Ballard. Legendary has buzzed about screenwriter Wes Jones on board to adapt the book, and Mike Tollin, who has had a hand in creating Varsity Blues, Coach Carter and Hank Aaron: Chasing the Dream, will produce.
The movie adaptation will be a mix of The Bad News Bears, Hoosiers and Remember the Titans, offering a story of a ragtag team who rises to the challenge of competition thanks to an unconventional coach. Set in a small Illinois town in the 1970s, One Shot at Forever focuses on the Macon Ironmen, a high school baseball team filled with long-haired teens with peace signs scrawled on hand-me-down uniforms. Their coach was a hippie English teacher, who took the task on reluctantly and had no coaching experience to speak of. But his bizarre methods—which included warming up to Jesus Christ Superstar--unexpectedly led his boys to the state finals, where they went head to head against an established team out of Chicago.
It sounds like an inspirational project with a lot of character to it. And between Jones having snagged a spot on the 2010 Black List (the best of Hollywood's unpublished scripts) for his Karl Rove biopic College Republicans, and his admitted obsession with baseball as a Mets fan and fantasy baseball league runner, he sounds like a great pick for the project. From here it will be interesting to see who Legendary lands to helm, and who they hope to snag for the role of the hippie coach. I'm thinking Bradley Cooper would be an unexpected yet fantastic pick. But it's way too soon to seriously speculate.
Staff writer at CinemaBlend.