Lena Dunham And Norman Reedus Are Joining Forces For This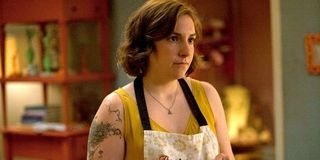 Two of the hottest stars in television, Lena Dunham and Norman Reedus, are set to make the move to the big screen together with Sky. But do the duo have the screen-presence to excel on the big screen? Or will they be found lacking and only cement their reputation as television stars instead?
We'll find out with Sky, a thriller/road-movie that will also star Diane Kruger. According to Variety, Lily Sometimes director Fabienne Berthaud will oversee the film, which will be her third feature film. There's a European vibe running throughout Sky, as it is being part financed by Bertrand Faivre's French studio Le Bureau as well as Germany's Pandora. They are also hoping to raise further financing while at the Berlin Film festival.
Diane Kruger will take the lead role in Sky. She will star as Romy who takes a trip to California with her husband, played by Gilles Lellouche. However their journey takes a sadistic turn when Romy accidentally kills her spouse during a fight that turns violent. Rather than doing the honorable thing and admitting to her crime, Romy decides to embark on a road trip across Nevada and California instead. Along the way she is expected to bump into The Walking Dead's Norman Reedus and Girls' Lena Dunham.
Emmanuelle Le Courtois, who works for The Bureau Sales and is looking to shop around Sky while in Berlin, has been talking up the thriller. She explained that it's character-driven with multiple layers, while it's also about a "woman emancipating herself." Sound intrigued? Sky certainly does have an appeal.
Diane Kruger is a worthy leading lady, however it's the addition of Lena Dunham and Norman Reedus which means that Sky should have an appeal to US audiences. Dunham has turned into one of the most complex and divisive figures in independent cinema and television. This is mainly due to her work as the lead actor, writer, director and creator of Girls, the HBO dramedy that has blossomed into a pop culture phenomenon. Dunham was given the opportunity to work on Girls thanks to her directorial debut, 2010's Tiny Furniture. She has also appeared in the likes of Nobody Walks (which she co-wrote), Supporting Characters, This Is 40 and Happy Christmas. Meanwhile Norman Reedus is now an all-round American hero because of his turn as Daryl Dixon on The Walking Dead. Some movie fans have even forgiven him for his work in The Boondocks Saints because of the character's popularity.
We'll see if the duo are able to perfectly combine when Sky is released. Fingers crossed it will get the financing it requires over the next few days at the Berlin Film Festival, and that it will hit cinemas at some point in 2016.
Your Daily Blend of Entertainment News