Girls Season 4 Trailer: Watch Lena Dunham Fall Off A Bike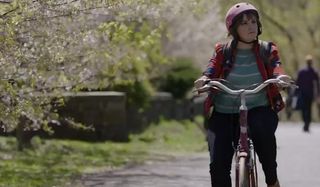 Love her or hate her, there are actions and conversations so Lena Dunham-y that her name has become a descriptive adjective. This morning, HBO released the first brand new look at the upcoming season of Girls, and Lena is being Dunham-y, as usual. Check out the first trailer for Season 4 of the series and see if you agree.
In the trailer, Dunham is headed somewhere as her HBO alter ego Hannah, hopping on a bike and traversing across an idyllic landscape. You kind of wonder where Hannah is headed as she basks in the bright sunshine and greenery (clearly, I've been in the city too long), and then, she falls off of her bike in true Hanna form. As it turns out, it's a staged shot and members of the production team hop over to coo at the poor young lady who just took the fall. After this, HBO announces that Girls is back in production and gearing up for Season 4.
Dunham initially debuted the relevant part of the video on Instagram this morning, and HBO caught up a little later, putting together a longer version of the clip. Unfortunately, while it's heavy on amusement, the clip is light on actual information about Season 4. We do know that Community's Gillian Jacobs is headed to the series for Season 4, recurring on Girls as a character named Mimi-Rose Howard. Additionally, it looks like Hannah will be headed to Iowa to pursue a creative writing workshop, which could explain the pretty footage in the clip. If the storyline does split away from New York City for a while, it could be a pretty weird transition. The good news is that the storylines with each of the girls in Girls are often split, so maybe a plotline a few states away will work just fine. We'll just have to wait and see how it goes once Girls begins airing again
We aren't expecting to hear about a return date for quite some time. As the video notes, Girls just went back into production for Season 4. Last year, HBO got around to announcing premiere dates for midseason in October, although Girls didn't end up hitting the schedule until January. So, if you are waiting for the show, keep your eyes peeled for more announcements in the coming months. And if you're not looking forward to Season 4 of Girls, at least these announcements about Dunham's show also mean we are that much closer to Game of Thrones.
Amazing Race & Top Chef superfan with a pinch of Disney fairy dust thrown in. If you've created a rom-com I've probably watched it.