Leonardo DiCaprio Does Aquaman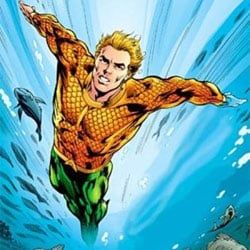 It's pretty hard to believe that anyone would actually want to make a movie out of Aquaman. When Entourage used it as Vince's default superhero flick, it was precisely because making the fish man into a movie franchise seemed so ridiculous. Or is it?
The boys at JoBlo have been reading carefully and they noticed buried inside a random, otherwise boring THR story this little tidbit: "The studio is taking pitches on sci-fi hero Adam Strange and the underwater-breathing hero "Aquaman," to be produced by Leonardo DiCaprio and his Appian Way shingle."
The studio in question is Warner Bros, where all of DC Comics' superhero properties reside. Beyond that sentence, they offer no further insight on what exactly Leo is planning with this project, and of course just because DiCaprio is producing it, that doesn't have to mean he'll be in it. But he could be. Appian Way produces almost everything DiCaprio does these days and if he's producing it you have to think he's at least considering playing fish master. Besides, isn't it about time Leonardo DiCaprio jumped back in the ocean? I can't wait to see him swimming past the wreck of the Titanic. Someone call Shia LaBeouf about playing Aqualad, he's long past the point of having dignity.
Your Daily Blend of Entertainment News
Thank you for signing up to CinemaBlend. You will receive a verification email shortly.
There was a problem. Please refresh the page and try again.