Lily Collins Will Likely Play Stormy Llewellyn In Odd Thomas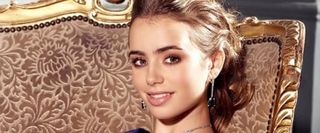 For those who are unawares, Lily Collins played Collins Tuohy in last years football dramafest The Blind Side which landed her several more roles in releases for this and next year. You'll be able to catch her alongside Paul Bettany in Priest when that kicks off the summer on May 13. Fun Fact: she's also the daughter of LEGENDARY musician Phil Collins.
The 22-year-old up and comer will likely add another film to her lengthening list of projects in the form of Dean Koontz adaptation Odd Thomas, according to Variety. They're reporting that she's beaten out a list of contenders that included Emma Roberts and Kat Dennings to play Stormy Llewellyn, girlfriend to the titular character Thomas, a clairvoyant line cook who will be played by Anton Yelchin-- you all remember him as Chekov in the Star Trek redo from 2009.
At the helm will be Stephen Sommers who most recently gave us one of the worst movies of all-time, G.I. Joe: Rise of the Cobra. Sommers will be directing his own script he wrote from the Koontz novel. Here's the book's review from Publisher's Weekly if you want to know more:
Your Daily Blend of Entertainment News
Thank you for signing up to CinemaBlend. You will receive a verification email shortly.
There was a problem. Please refresh the page and try again.