Lindsay Lohan Starring Opposite Porn Star James Deen In The Canyons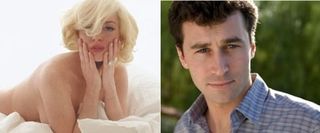 Despite a recent car accident that may have her in legal trouble, and might jeopardize her upcoming Lifetime movie Liz and Dick to boot, Lindsay Lohan has picked up a new film role-- and one that will unite her with a porn star, no less. After raising the budget through Kickstarter, Bret Easton Ellis's thriller Canyons is ready to start shooting in July, with Paul Schrader attached to direct and Lohan joining James Deen in the lead roles, as characters named Christian and Tara.,
This all comes from Ellis's Twitter feed, where he's also been campaigning for the job of adapting 50 Shades of Grey to the big screen, for what that's worth. The basic plot structure of The Canyons, which "documents five twenty-something's quest for power, love, sex and success in 2012 Hollywood," sounds a good bit like the most recent movie based on a screenplay by Ellis, The Informers, which boasts a hilariously terrible Rotten Tomatoes score, though with a veteran like Schrader (American Gigolo, Mishima: A Life in Four Chapters) on board, we might expect better results.
Oh, and about that porn star? He's probably not as seedy and Ron Jeremy-esque as you imagine. In fact, Deen has been celebrated in mainstream press for being a likable, boy-next-door presence in his porn films, and a crossover into regular films seemed inevitable. I have no idea how that will work acting opposite Lohan, though, since it's hard at this point to even know what remains of Lohan's once-promising talent. But hey, work is work-- and if she can work out her legal troubles with the LAPD, this could be an interesting opportunity for them both.
Staff Writer at CinemaBlend
Your Daily Blend of Entertainment News
Thank you for signing up to CinemaBlend. You will receive a verification email shortly.
There was a problem. Please refresh the page and try again.