Listen To Groot's Catchphrase In 15 Different Languages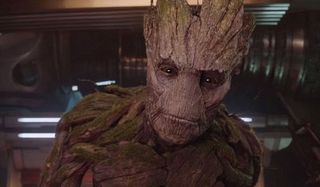 He is Groot. And a proclamation of this is just about all the towering sentient tree from the summer's hit Guardians of the Galaxy can say. But it's worth noting he has said it in a slew of different languages. Take a peak of Groot gone global below:
To celebrate the fast-approaching release of Guardians of the Galaxy on DVD, Blu-ray and On-Demand, Marvel Entertainment has unveiled one of the many featurettes promised on the home entertainment release. In the above clip, Groot bellows his catchphrase "I am Groot" in fifteen different languages including English, Spanish, Ukrainian, Hungarian, Japanese, Polish, Italian, Portuguese, Kazakh, French, Russian, Turkish, Hindi, German, Czech, and Mandarin.
Translating a movie into other languages is nothing new. But when a character catches on the way Groot did, there's something unifying about seeing how he was shown in other countries. Disney did a similar featurette for another of their properties, revealing how Frozen's "Let It Go" played in 25 other languages around the world.
But part of what has made Groot's international translations so special is that Disney/Marvel used Vin Diesel, the voice of our domestic, English-speaking Groot, for a bunch of the overseas variant versions. Diesel learned how to say "I am Groot" in Brazilian Portuguese, Mandarin Chinese, French, Russian and Latin American Spanish for foreign releases of Guardians of the Galaxy. And more than that, he recorded his lines while on stilts, to better connect to his very tall character. Take a peak at that process below in this charming behind-the-scenes look at his record:
I know it's just one line, but am I alone in being impressed with how Vin Diesel manages to find different shades and impose different meanings to "I am Groot" across several different languages?
And for a bit more Groot fun, check out this featurette on Dancing Groot's evolution:
Guardians of the Galaxy will be available for purchase on December 9th. The movie is now available on Digital HD in both the Disney Movies Anywhere app and also Vudu.
Staff writer at CinemaBlend.