Listen To Michael Giacchino's Music From Star Trek Into Darkness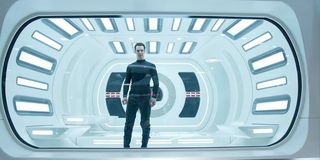 It's a special brand of movie lover who is in the know about film composers. But even if you're not among these tuned in cinephiles, you can probably appreciate the special sneak peak into the world of Star Trek Into Darkness that WQXR offers in the form of music from composer Michael Giacchino's score. Host David Garland had Giacchino on his show "Music on the Radio," to delve into this sequel and its sensational score.
In the interview portion, Giacchino gamely shares with listeners how he researched for Star Trek into Darkness, what it was like on the set of the film, why he is in awe of Benedict Cumberbatch, and what inspirations he pulled from the original Star Trek series. You can listen to it all out below. Or if you just want to hear the music—including tracks titled "Pranking the Natives," and "An Ode to Harrison"--skip to roundabouts the 12-minute mark.
Giacchino is an acclaimed composer who won an Academy Award for his score of the Pixar adventure Up. He has previously collaborated with Star Trek Into Darkness director J.J. Abrams on the 2009 reboot Star Trek, Mission: Impossible III, Super 8, and the Golden Globe-winning drama series Lost, which netted Giacchino two ASCAP Awards. With his celebrated skill for crafting dynamic scores, the American-born musician has become a hotly sought composer. Recently, he won headlines for signing on to score the Wachowski Sibling's next venture, Jupiter Ascending.
Star Trek into Darkness opens in the US on May 17th. Get a glimpse at one of its scenes—plus Giacchino's work in context— here.
Your Daily Blend of Entertainment News
Staff writer at CinemaBlend.