Listen To Vin Diesel Voice Groot In Five Other Languages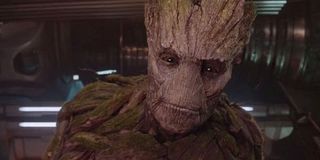 Be warned, America, this weekend you will fall head over heels for a being of few words, brute strength, and a tender heart. He is Groot. He is on the verge of becoming a global star. And Vin Diesel demands to be a big part of it.
Guardians of the Galaxy is Marvel's latest tent pole, so of course it will be opening all over the world, from China to France, Russia to Mexico and Brazil. When foreign movies open in the U.S., American audience preferences dictate the use of subtitles so the dialogue won't get lost in translation. But the norm for much of the rest of the movie-going world is over-dubbing. So when Star-Lord, Rocket Racoon, Gamora and Drax The Destroyer leap into theaters overseas, that means the voices of Chris Pratt, Bradley Cooper, Zoe Saldana and Dave Bautista will be replaced by actors who speak whatever language is demanded for a particular territory's release. But Vin Diesel is an international icon because of his wildly popular Fast & Furious franchise. He's not about to let his fans down by letting someone else steal his lines.
Of course, as the trailers have teased, Groot doesn't have a whole lot to say other than "I am Groot." Nonetheless, Vin Diesel took it upon himself to learn how to say his characters catchphrase in Brazilian Portuguese, Mandarin Chinese, French, Russian and Latin American Spanish to better be a part of Guardians of the Galaxy's impending world domination.
You can get a taste of how Guardians of the Galaxy sounds all over the globe, thanks to the various overseas trailers. Up top, Diesel speaks Brazilian Portuguese after Groot is yelled at by an aggravated Rocket Raccoon. Watch that first, then compare it to this same ad, but this time in French!
How about in Russian?
Sadly the Mandarin version isn't yet online, but you can see what Groot's Latin American Spanish variant will sound like here:
Next Disney/Marvel should put together a supercut of various Groot reads, a la "Let It Go."
Guardians of the Galaxy opens August 1st.
Staff writer at CinemaBlend.
Your Daily Blend of Entertainment News
Thank you for signing up to CinemaBlend. You will receive a verification email shortly.
There was a problem. Please refresh the page and try again.