Little Girl Banned From Bringing Wonder Woman Lunch Box To School Because It's 2015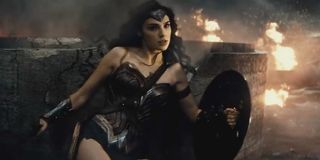 Apparently, Wonder Woman and the rest of her superhero kind have no place in school — or, at the very least, not in one particular school. One little girl had no idea what was to come in simply using a fun Wonder Woman lunch box to carry her PB&J. But alas, it's 2015, and well, the girl's school quickly banned her lunch box from the premises for the most ridiculous reason.
An Imgur user posted a series of pics to the photo-sharing platform revealing that the daughter of a friend was banned from bringing her Wonder Woman lunch box into school. Though the user wouldn't name the school in question, photos of the offending lunch box and the letter from the school were posted. The lunch box, which you can see here, has a old-school image of Wonder Woman's face on the front, while the back has her full body holding a lasso with the caption, "As lovely as Aphrodite. As wise as Athena." Despite the imagery, the school considered this a "violent character," and is therefore not allowed to be shown on any student's clothes, backpacks and lunch boxes.
According to the letter from this particular school, the dress code in the School Handbook labels superheroes as "violent characters," which they define as "those who solve problems using violence." It's, perhaps, a good thing that the user did not reveal the name of the school that sent this letter because, knowing how the Internet operates nowadays, it might spark a witch hunt. Still, it'd be interesting to note whether this mandate came from a public or private school.
As The Mary Sue points out, this action seems to imply that the administration who passed such an action knows very little about the comic book heroes they are banning. Wonder Woman, for instance, is a symbol of female empowerment and often only uses violence as a last resort or to protect lives when danger approaches. The same goes for Superman, who is famous for his unwillingness to take a life. That's, at least, in the case of the comics and animated series — sorry, Man of Steel. That said, oversensitivity has been a talking point as of late. However, this particular action seems to be, as The Mary Sue put it, a blanket ban on violence instead of an informed mandate. Hopefully this will help launch a conversation in this community.
Though Wonder Woman may not be able to appear in lunch box form — for now — she will appear in next year's Batman v Superman: Dawn of Justice. Gal Gadot will portray Diana Prince opposite Henry Cavill's Superman, Ben Affleck's Batman and Jesse Eisenberg's Lex Luthor. The film — which will also features cameos from Jason Momoa's Aquaman, Ezra Miller's The Flash and Ray Fisher's Cyborg — will act as a springboard for the expanded DC cinematic universe, which will lead up to the two-part Justice League event.
Batman v Superman will bow on March 25, 2016, after which Gadot will headline her own standalone Wonder Woman film from director Patty Jenkins.
Your Daily Blend of Entertainment News
Thank you for signing up to CinemaBlend. You will receive a verification email shortly.
There was a problem. Please refresh the page and try again.