The Live-Action Little Mermaid Film May Have Found Its Director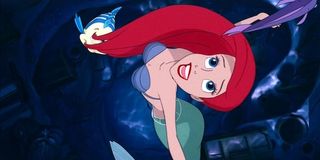 Though Universal's upcoming live-action update of The Little Mermaid recently landed a star to take the lead in the form of Chloe Grace Moretz, it recently lost it's director, Sofia Coppola. This is just one of the various bumps the project has experienced along the way to the big screen, but according to a new report, the project may have filled that gaping vacancy.
According to their sources, The Wrap reports that Rebecca Thomas is in early talks to take over the helm on The Little Mermaid for Universal and Working Title Pictures. This is preliminary right now, but with an eye on a 2017 release, having a filmmaker on board to guide the picture is going to be a big step forward for the picture.
There is a question of timing, however. In addition to The Little Mermaid, Thomas apparently still intends to direct an adaptation of John Green's novel Looking for Alaska for Paramount. Though neither film has officially been given the green light, Alaska is reportedly further along the pre-production path, and while it doesn't have any stars signed on just yet, the drama, adapted for the screen by writer/director/actress Sarah Polley (Dawn of the Dead, Stories We Tell), reportedly has its eye on Elle Fanning to lead the movie. While this could provide complications, without a specific release already on the books, Mermaid may have the flexibility to accommodate Thomas' schedule, should they decide to go that route.
With no hard and fast date set for The Little Mermaid, Universal recently enlisted Love Actually and Four Weddings and a Funeral veteran Richard Curtis to give the script another pass. Based on Hans Christian Andersen's 1837 story, this tale—about a mermaid who wishes to become human after falling in love with a man she saves from drowning—has been told time and time again, though this iteration was reportedly inspired by a children's puppet production of the narrative. So, if nothing else, it will be interesting to see if that plays into the finished product at all.
Though she was on board to direct for a good long while, The Virgin Suicides director Sofia Coppola bailed on the project back in June. In a recent interview, she cited the ubiquitous creative differences with the studio as the reason she left, saying that the two sides ultimately had distinct and conflicting visions for the movie, and she decided to work on something smaller, which is her preferred method of operation. She reportedly wanted to take the story in a much darker direction, while Universal wanted something more in line with Disney's beloved animated retelling, and on a much larger scale that Coppola envisioned.
Your Daily Blend of Entertainment News
Your Daily Blend of Entertainment News
Thank you for signing up to CinemaBlend. You will receive a verification email shortly.
There was a problem. Please refresh the page and try again.