The Live Action Little Mermaid Has Found Its Lead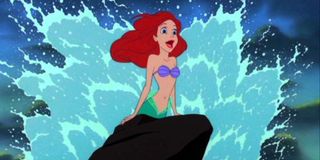 Live action remakes of classic animated properties are almost as big a thing in Hollywood these days as shared cinematic universes. Disney is seemingly in the process of burning through their entire back catalog of beloved animated features. While it's not set up at the Mouse House, a live action The Little Mermaid, despite some bumps along the way — like losing director Sofia Coppola — is moving forward, and the project has found its lead.
Working Title and Universal are teaming up to tell a new version of the Hans Christian Andersen 1837 story, and according to Variety, Chloe Grace Moretz is now all set to take play the titular little mermaid. Aside from the basics — a mermaid wishes to become human after falling in love with a man she saves from drowning — there aren't a ton of specifics about this version of the tale that has been told and retold countless times. It has been said, however, that this iteration was inspired by a children's puppet production.
Even though she's only 18, Moretz has put together a resume that is as impressive as damn near anyone toiling away in the industry. With more than 50 roles under her belt, she's already a veteran and doesn't show any signs of slowing down anytime soon. She'd already been working steadily in movies and on TV when she caught a the attention of a lot of people after playing the diminutive superhero badass Hit-Girl in 2010's Kick-Ass, and it's only been up from there, starring in Carrie, the American horror remake Let Me In, and the Denzel Washington-led actioner The Equalizer, among many others.
Though Lost in Translation director Sofia Coppola left The Littler Mermaid recently due to the ubiquitous "creative differences," Moretz was reportedly in the mix for the role even then, at least in the studio's eyes. The report indicates that Coppola's unwillingness to go with a more established star like Moretz was part of her decision to bail.
It's probably good that The Little Mermaid is not super imminent right now, as Chloe Grace Moretz has a fairly full dance card for the next little bit. She has the young adult alien invasion yarn The 5th Wave in the can, recently wrapped production on the biographical mental illness drama Brain on Fire, has teen murder mystery November Criminals in the works, and is in the process of filming Neighbors 2: Sorority Rising.
With no hard and fast date set, after Coppola left, the studio also wanted to give the script another pass—also apparently part of why they waited until now to move ahead with Moretz. To achieve this goal, they are trying to enlist the services of Richard Curtis, of Love Actually and Four Weddings and a Funeral renown.
Right now there's no director in place or release date set, but as things progress on The Little Mermaid, expect details like those to be filled in.
Your Daily Blend of Entertainment News