Mad Men Creator Weiner Delays His Feature Directing Debut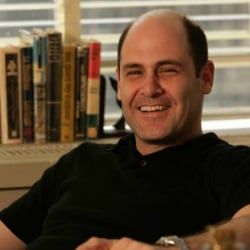 Mad Men creator Matthew Weiner could do pretty much anything he wants right now, having wrapped up Season Three marvelously on Sunday and facing a few months of hiatus to figure out where the show will go next, and you know, maybe take a break. His goal had been to make his feature directing debut with You Are Here, a romantic comedy that attracted Jennifer Aniston, Bradley Cooper and Zach Galifianakis to the cast. Now the whole thing is being put on ice.
Apparently Don Draper and company are to blame-- Variety writes that scheduling conflicts with the show's fourth season has forced You Are Here to a 2011 shoot date, and all three principals are working on juggling their schedules to still take part. You can't blame them for being willing to to drop everything for Weiner-- the performances he's gotten out of the Mad Men, and the juicy scenes he gives them, are enough to make any actor envious. It's hard for me to imagine a Weiner romantic comedy after watching Don and Betty Draper fight with each other for three seasons, but then again, those rare golden moments between Pete and Trudy suggest there's hope in that brain somewhere. While I'm glad the break will give Weiner even more time to craft a stellar season four, I'm a little bummed we have to wait so long to see this other adventure.
Staff Writer at CinemaBlend
Your Daily Blend of Entertainment News
Thank you for signing up to CinemaBlend. You will receive a verification email shortly.
There was a problem. Please refresh the page and try again.