Magic Mike XXL Is Going To Be The Raciest Studio Movie In Decades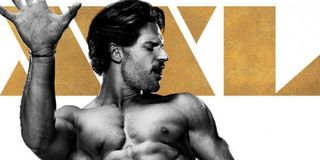 Joe Manganiello is returning as Big Dick Richie for Magic Mike XXL, along with his band of stripper buddies. And, if the words of a former True Blood stud are worth anything, we haven't seen nuthin' yet.
Manganiello recently spoke with the folks over at PopSugar about what's coming for us in the highly anticipated sequel. As you might expect, there were a lot of teaser-y buzzwords thrown around.
At first, his words sounded like another celebrity trying to drum up further hype for his next release, but perhaps his words will prove true. Magic Mike skirted the line of inappropriate behavior with Tatum's bare bottom, Matthew McConaughey in a g-string, and Big Dick Richie's title asset from behind a curtain. If the Magic Mike XXL trailers and posters are any indication, there will be a lot more gyrating, twerking and ab-tastic action to be had in the sequel. And lord knows that Manganiello loves to flaunt his assets.
And there's a lot more where this GIF came from.
So, does this mean this is going to be even racier than Fifty Shades of Grey? It's unlikely. It's hard to believe anything could be racier than Christian Grey's playroom with all the acutrements that came along with it. At the same time, though, we don't doubt Manganiello's words. Everything shown so far of Magic Mike XXL suggests it will continue to push the boundaries of what's considered passe for the big screen.
Magic Mike XXL picks up a little ways after the main King of Tampa retired his jockstrap to pursue his passions for custom furniture making. The other guys, played by Matt Bomer, Adam Rodriguez, Kevin Nash and Manganiello, are ready to follow suit, but not before one last epic performance. The stripping sensations embark on a roadtrip to Myrtle Beach for a performance at a massive convention, and along the way they're going to meet a number of new friends. The cast is rounded out by Jada Pinkett-Smith, Amber Heard, Donald Glover, Stephen "tWitch" Boss, Michael Strahan, Andie MacDowell and Elizabeth Banks.
Magic Mike XXL is set to hit theaters on July 1, and perhaps we'll be seeing more of a Fifty Shades of Mike vibe, though with less whips, chains and bondage.
Your Daily Blend of Entertainment News
Your Daily Blend of Entertainment News
Thank you for signing up to CinemaBlend. You will receive a verification email shortly.
There was a problem. Please refresh the page and try again.