The Magnificent Seven Remake Just Picked Up The Perfect Villain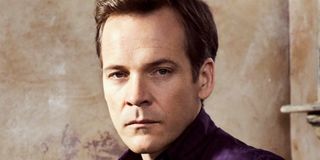 The idea of a Magnificent Seven remake was initially met with jeers and cynism, but now that Sony Pictures continues to beef up its cast with an all-star ensemble, public opinion is swaying. The latest addition to join this remake of a remake is Peter Sarsgaard, and if his body of work is any indication, he's going to make a great antagonist.
Variety first reported the news of Sarsgaard, who's known for roles in Lovelace (playing a scumbag pornographer), Green Lantern (as the mentally unstable Hector Hammond), Jarhead, Orphan, and Flightplan, among many others. According to the trade, he'll play the film's main villain, that of the robber baron named Bartholomew Bogue.
The original Magnicent Seven, released in 1960 as a remake of director Akira Kurosawa's The Seven Samurai, followed seven gunslingers who protect a small Mexican village from a gang of outlaws led by the baron. In Antoine Fuqua's rendition, as reported by Deadline, Bogue kills a man in the village, after which his victim's wife enlists the help of the heroic gunmen. The Mexican village is also said to be replaced by a frontier mining town.
Including Sarsgaard, this version of The Magnificent Seven boasts some flashy talent. Flight's Denzel Washington, Guardians of the Galaxy's Chris Pratt, Boyhood's Ethan Hawke, Daredevil's Vincent D'Onofrio, Washington's Equalizer co-star Haley Bennett, Elite Squad's Wagner Moura, G.I. Joe's Byung-Hun Lee, and Magic Mike's Matt Bomer have all signed on for roles. Aquaman himself, Jason Momoa, was said to be in the film, but he ultimately dropped out because his character didn't have much to do or say, according to Deadline.
With Fuqua at the helm, the script was initially penned by True Detective creator Nic Pizzolatto, though it was recently reworked by John Lee Hancock. The original film starred Yul Brynner, Steve McQueen, Charles Bronson, Robert Vaughn, and Eli Wallach, and led to multiple sequels and a television special on CBS. Watch the trailer for the original below, though, presumably, the remake will be a bit darker and grittier.
Should the remake prove to be successful, and considering the current Hollywood climate of remakes and reboots, it seems likely that the studio is already mulling over the idea of branching this out into a sprawling new franchise.
The Magnificent Seven is set to ride into theaters on January 13, 2017.
Your Daily Blend of Entertainment News
Your Daily Blend of Entertainment News
Thank you for signing up to CinemaBlend. You will receive a verification email shortly.
There was a problem. Please refresh the page and try again.