Major X-Men: Days Of Future Past Character And Plot Details Revealed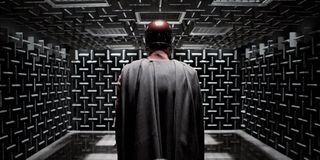 We've long been wondering about which member of the X-Men would be time-traveling from an apocalyptic future back to 1973 in Bryan Singer's X-Men: Days of Future Past, but now it appears that the character's identity has been revealed. While it was Kitty Pryde's consciousness that was sent back in time in the original comics, and it was Bishop who took the trip in the fantastic X-Men animated series adaptation from the '90s, Vulture has learned from a source that it will be Hugh Jackman's Wolverine who will best sent back in the new film.
The site says that Kitty Pryde, played by Ellen Page from X-Men: The Last Stand, will still be playing a pivotal role in the story. It is Kitty who uses her power to send Wolverine back in time, but when an incident occurs the X-Men must look for a mutant who can take Kitty's powers and bring Wolverine back. This very well could be how Anna Paquin's Rogue enters into the story. Fans will remember that Rogue had her mutation removed at the end of X-Men: The Last Stand, but the effects of the "cure" may not be permanent - as evidenced by the final scene in the film featuring Sir Ian McKellen's Magneto being able to move a metal chess piece right before the credits rolled.
But that's not all the information that Vulture received about the story. While all of this information will be revealed on Saturday at San Diego Comic-Con (so don't worry about spoilers), the site has gotten early intel about the identity of characters played by some of the actors new to the franchise in X-Men: Days of Future Past. First up there's Peter Dinklage, who joined the cast back in February. There was immediate speculation that he would be playing one of the film's main villains, with many deducting that he could play the inventor of the Sentinels, Bolivar Trask. Well, those who were thinking along those lines were dead on, as the Game of Thrones star will indeed be playing Trask in the movie. It's worth noting that actor Bill Duke - who looks different than Dinklage in every way imaginable - actually played a character named Trask in X-Men: The Last Stand, but it appears this new sequel will be completely ignoring that.
The other final big reveal is the identity of the character played by Josh Helman, the Aussie star who was only cast in the film last month. Despite being a late addition to the cast, it was said at the time that he would be playing a very significant rile and that he would be on set for several weeks. Today we learn that's because he will be playing a younger version of famed X-Men baddie Bill Stryker, the character played by Brian Cox in X2: X-Men United. While Dinklage will mostly be featured in the future parts of the movie's timeline, starring alongside Page, Paquin, McKellen, Sir Patrick Stewart, Halle Berry, Daniel Cudmore and Shawn Ashmore, Helman will be featured as the main antagonist in the 1973 parts, with X-Men: First Class stars James McAvoy, Michael Fassbender, Jennifer Lawrence, Nicholas Hoult and Lucas Till. The younger version of Styker was actually mentioned briefly in First Class when Xavier (McAvoy) was proving his telekinetic abilities to Bill's father at the CIA.
We'll have even more for you about X-Men: Days of Future Past on Saturday during the 20th Century Fox panel at Comic-Con.
NJ native who calls LA home; lives in a Dreamatorium. A decade-plus CinemaBlend veteran; endlessly enthusiastic about the career he's dreamt of since seventh grade.
Your Daily Blend of Entertainment News
Thank you for signing up to CinemaBlend. You will receive a verification email shortly.
There was a problem. Please refresh the page and try again.