Mamma Mia 2 Is Dead, According To Brosnan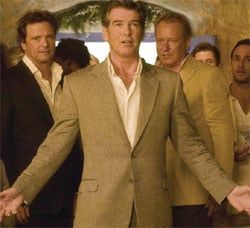 Hey remember back in 2008 when Mamma Mia was like the biggest thing ever and people were staging sing-alongs and it was such a big deal that sequel absolutely had to be made right away? Yeah, Pierce Brosnan doesn't either. Empire caught up with the former James Bond, who plays a pivotal role in the franchise as one of the three fathers, and he seems to think Mamma Mia 2 is dead.
We should have seen this coming. Though news about the film leaked out steadily throughout the latter part of 2009, it got progressively weirder. At one point it was rumored that they wouldn't even use Abba music for the sequel. If you're not using Abba, what's the point? It looks like they saw reason and gave up on the whole thing.
Your Daily Blend of Entertainment News