Margot Robbie's Favorite Sex Scene Of All Time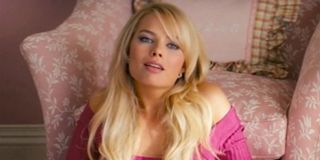 We all have our favorite movie sex scenes, from the erotic to the hilarious, and as actors are usually rather big film fans, they're not above having their own. Margot Robbie, star of DC's upcoming super villain team up Suicide Squad, has a particular favorite, which she just revealed.
The star of movies like The Wolf of Wall Street, Z for Zachariah, and Focus is one of the actors featured in W Magazine's February 2016 issue, and when asked, she revealed her favorite sex scene goes down in True Romance. The 1993 Tony Scott-directed, Quentin Tarantino-penned crime drama is more known for sharp wit and violence than eroticism, but there is a memorable sexual encounter, and it involves a phone booth.
The scene in question takes place shortly after the quickie nuptials between Clarence Worley (Christian Slater) and Alabama Whitman (Patricia Arquette). From the aforementioned phone booth, they call Clarence's best friend, Dick Ritchie (Michael Rapaport), and after their business is concluded, the newlyweds get a wee bit frisky in the glass box on the side of the highway, using phone books for leverage and startling a passing trucker.
Fun fact, Dick Ritchie just so happens to be sitting on the can while all of this goes on, which seems like a very Quentin Tarantino touch. You also have to wonder how such a scene would play out now since everyone has cell phones and phone booths are largely a relic of a bygone era. (Every time I see one anymore I'm a bit surprised and gawk at it for a moment like it's some ancient artifact I don't quite understand.)
Margot Robbie doesn't go in to any specific detail about why this moment from True Romance is her favorite, though she was apparently watching it the night before shooting the short video. That said, it's definitely a fun, memorable scene, one that illustrates just how manic and head over heels in love the two characters are. If it's been a while, check it out below.
Since Margot Robbie first captured the public attention starring opposite Leonardo DiCaprio in Martin Scorsese's The Wolf of Wall Street in 2013, she's landed a ton of high profile roles and continually stolen scenes in all of them. Later this year we'll see her channel her inner maniac as Harley Quinn in DC's Suicide Squad, she'll also appear in Whisky Tango Foxtrot with Tina Fey, and hang out with the king of the jungle in The Legend of Tarzan. It's going to be a busy 2016 for the 25-year-old Australian actress.
Your Daily Blend of Entertainment News