Marisa Tomei And Joshua Jackson Sign On For Inescapable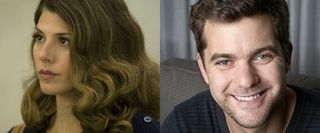 I never would have guessed back in the day that Joshua Jackson would become my favorite Dawson's Creek alumnus, but then the former Pacey had to go and win me over as Peter Bishop on Fringe. (And really, who saw that whole Katie Holmes/Tom Cruise thing coming?) As such, I'm happy to see the guy getting more and better work, and I'm going to count starring in a new big-screen thriller with Marisa Tomei as a tick in the "win" column. Come to think of it, back when Marisa Tomei won an Oscar for her role in My Cousin Vinny I kind of figured that punchline would be the highlight of her career. I'm not ashamed to admit when I'm wrong, and Tomei has been proving me wrong like a boss of late, with great performances in movies such as The Wrestler and Cyrus. Let's hear it for the late bloomers!
According to Deadline, Tomei and Jackson will be joining Alexander Siddig (Star Trek: Deep Space Nine's Doctor Bashir) in the new thriller Inescapable. The flick is based on a script by Ruba Nadda, who is also directing. Nadda previously worked with Siddig on the 2009 romantic drama Cairo Time, which also starred Patricia Clarkson.
Set in Syria, Inescapable stars Siddig as an expatriate whose journalist daughter vanishes in Damascus, forcing him to ask a former lover (Tomei) for help in locating the missing girl. Jackson plays a U.S. embassy official whose help they seek, but who "may have an agenda of his own."
Your Daily Blend of Entertainment News
Thank you for signing up to CinemaBlend. You will receive a verification email shortly.
There was a problem. Please refresh the page and try again.