The Martian Is At The Center Of A Lawsuit Following Plagiarism Claims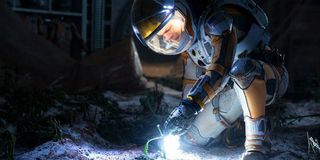 Ridley Scott's The Martian, starring Matt Damon as an astronaut/botanist stranded on the red planet, is the subject of a new lawsuit. The film is scheduled for release in the U.S. on October 2 and in Russia on October 8, and it's there that we see Russian screenwriter Mikhail Raskhodnikov taking action against the critically acclaimed film for alleged plagiarism.
According to The Hollywood Reporter, Raskhodnikov has filed a suit against 20th Century Fox claiming that the studio plagiarized parts of his script for a movie called Marsianin, which means The Martian. His lawyer, Shota Gorgadze, went on a Russian FM radio station, Vesti, to air his client's grievances.
Gorgadze said that Raskhodnikov wrote the script back in 2008 and shopped it around to a number of studios. The lawyer also said that Raskhodnikov is positive that his script made its way to Fox's main headquarters, and the plot line and "some details" from the script were used for The Martian. The suit is currently slated to be considered in October, and Gorgadze brought up Russia's Culture Minister, Vladimir Medinsky, saying he has a legal right to suspend the October 8 release of the film until this situation is resolved.
This already seems a bit fishy. Scott's The Martian took its plot from the Andy Weir book of the same name, which was adapted into a screenplay by Drew Goddard of Netflix's Daredevil series. If anything, it seems Raskhodnikov might have a better case against Weir, who self-published the book in 2011 before Crown Publishing bought the rights and re-released it in 2014. We'll have to see how this all plays out, but this could very well be tossed out. Then again, I'm no lawyer. If you think about Chechin writer Ruslan Zakriyev, who tried to pull a similar move with James Cameron and Avatar earlier this year, that quickly went nowhere.
The Martian first premiered at the Toronto International Film Festival before hitting up the New York Film Festival for a special screening. The film sees Damon as Mark Watney, a botanist who travels to Mars with a team of astronauts. After an unexpectedly intense sandstorm separates Mark from his crew, he's left behind on the planet for dead. In order to survive, he must use his science and botany skills to grow food on a planet where nothing grows and wait until a rescue mission can come for him.
The film also stars Jessica Chastain (Intersteller), Jeff Daniels (Dumb and Dumber To), Chiwetel Ejiofor (12 Years A Slave), Kate Mara (Fantastic Four), Sebastian Stan (Captain America: Civil War), Michael Pena (Ant-Man), Sean Bean (Jupiter Ascending), Donald Glover (Community), Kristen Wiig (Ghostbusters), Mackenzie Davis (Halt & Catch Fire), and Aksel Hennie (Hercules).
Your Daily Blend of Entertainment News
Thank you for signing up to CinemaBlend. You will receive a verification email shortly.
There was a problem. Please refresh the page and try again.