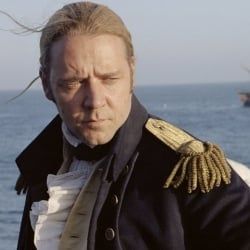 Despite a Best Picture nomination and a respectable $93 million domestic gross, Master and Commander: The Far Side of the World isn't exactly one of those movies from earlier this decade that legions of audiences are dying to revisit. And yet, if the AP has their story right, Russell Crowe is considering revisiting sea captain Jack Aubrey in another movie based one of the 20 books in the Master and Commander series.
Crowe told the AP that "There's still a long way to go" in developing the project, and that the conversation thus far has been between himself and the person who owns the rights to the books. And it's still one of a number projects Crowe is considering, which really suggest we may never see the thing at all. But Master and Commander is one of those glossy period piece I actually wouldn't mind seeing a sequel to, given that the original was made with a good deal of energy and sense of adventure. One caveat, though: Paul Bettany has to be back as the ship's doctor, because come on, it's not worth it without the pair.
Staff Writer at CinemaBlend
Your Daily Blend of Entertainment News
Thank you for signing up to CinemaBlend. You will receive a verification email shortly.
There was a problem. Please refresh the page and try again.