Matt Damon Ditches Plans For Directorial Debut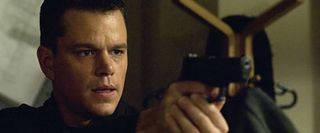 When Matt Damon and Ben Affleck made their mark in 1997 with Good Will Hunting, everyone was curious about what these young writer/actors would do with their careers. Now after years of ups and downs, Affleck is emerging as a very talented director, and it looked like Damon was going to follow suit. Teaming up with Dave Eggers and The Office's John Krasinski, Damon was going to direct and star in a project with the pair, but things have changed.
Vulture has it that although Damon is still going to star in the project, script issues have caused him to step back from the directorial role. It's unclear exactly what kind of script issues pushed him away, especially since it's his script that he wrote with Krasinski. The film is currently housed at Warner Bros. who will likely still send this film into production with a new director, but if Damon left the project altogether it might be a different story.
Currently, Damon is busy working with frequent collaborator Steven Soderbergh on the Liberace biopic for HBO, which will star Michael Douglas. But that's his only current project, since Elysium, District 9 director Neil Blomkamp's next piece, has found its way into what will likely be a long and arduous post-production process.
After seeing what Affleck can do behind a camera, it's a bit of a disappointment that we're not going to see what his friend brings to the position. But Damon was obviously interested in making that step into the director's chair, so expect him to find himself another project to helm very soon.
Your Daily Blend of Entertainment News
Thank you for signing up to CinemaBlend. You will receive a verification email shortly.
There was a problem. Please refresh the page and try again.