Matt Damon Looks Terrified And Stranded In First The Martian Photos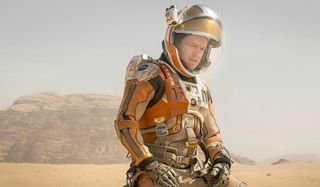 After playing an astronaut stranded on a frozen planet in Interstellar, Matt Damon is heading back into space with the starring role in The Martian. And, once again, he plays an astronaut left to fend for himself on another planet. This guy just can't catch a break. The first look at the highly anticipated Ridley Scott film has arrived in the form of a batch of images, featuring Damon and the star-studded cast investigating the Red Planet.
Empire magazine was the first to start releasing photos of The Martian, but since then Entertainment Weekly and PEOPLE magazine entered the fray. In the film, Damon plays astronaut Mark Watley, who, along with a team of scientists, is exploring and conducting experiments on Mars. Due to a freak storm, the team is forced to evacuate, but Watley is injured and is left behind to fend for himself. You can see his despair in these first few photos.
As Scott told PEOPLE, the intruments on Watley's suit convince the crew that he's dead, but two-and-a-half months later, they realize he's still alive. Instead of wallowing in his predicament, Watley "knuckles down" to figure things out. The Martian is based on the self-published book by Andy Weir, with a similar vibe to Interstellar and Gravity. The film also borrows another cast member from Christopher Nolan's space epic: Jessica Chastain. The actress told the magazine of seeing how much fun Anne Hathaway and Damon had playing astronauts in Interstellar that she just had to get in on the fun. So, while she was Earthbound in that film, she takes the role of one of the explorers in Watley's troupe.
Rounding out the cast are Fantastic Four's Kate Mara, Captain America: The Winter Soldier's Sebastian Stan and Hercules' Aksel Hennie. Not shown in the image above are 12 Years a Slave's Chiwetel Ejiofor, Community's Donald Glover, The Newsroom's Jeff Daniels and the newly minted Ghostbuster Kristen Wiig. You can check out more photos of the cast over at EW, Empire and PEOPLE.
The Martian is set to hit theaters this Thanksgiving.
Your Daily Blend of Entertainment News
Thank you for signing up to CinemaBlend. You will receive a verification email shortly.
There was a problem. Please refresh the page and try again.