Matt Dillon Gears Up In Armored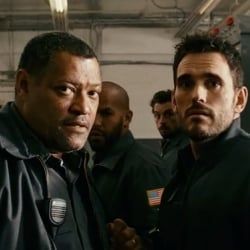 Matt Dillon is back with a bang. We haven't seen Dillon in anything dramatic since 2005's Crash and his recent comedies, You, Me and Dupree and Herbie Fully Loaded probably make him blush with embarrassment. But it's okay Matt, your latest action flick Armored looks awesome.
Dillon stars alongside Columbus Short, Laurence Fishburne, Jean Reno, Skeet Ulrich and Amaury Nolasco in this crime thriller about a group of armored transport security officers that decide to steal the load they're assigned to protect. The start of the trailer may look like an Inside Man rip-off, but the story quickly makes a B-line towards novel and exhilarating. You'll have to wait to see Armored in theaters until September 18th, but in the meantime, enjoy the trailer, courtesy of Apple, where you can also find high-res versions.
Staff Writer for CinemaBlend.
Your Daily Blend of Entertainment News
Thank you for signing up to CinemaBlend. You will receive a verification email shortly.
There was a problem. Please refresh the page and try again.