Maya Rudolph Joins Amy Poehler And Tina Fey In The Nest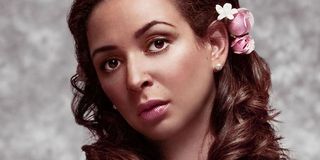 As soon as we heard Tina Fey and Amy Poehler were joining forces for an upcoming comedy, we were on board. Now, our excitement has hit critical levels with reports that another excellent Saturday Night Live alum and supremely funny lady is officially reuniting with them.
Maya Rudolph has joined The Nest, along with Ike Barinholtz, James Brolin and up-and-coming starlet Madison Davenport. Penned by SNL and 30 Rock writer Paula Pell, The Nest will star Tina Fey and Amy Poehler as sisters who are distraught when their parents announce they are selling the family home. Summoned to return and clean out their childhood rooms, these frustrated sisters decided now is the time to throw the ultimate house party.
Jason Moore, who earned plenty of buzz for helming the musical comedy Pitch Perfect is directing. Poehler and Fey will be pulling double-duty on The Nest. Fey is producing under her Little Stranger Inc banner with Jay Roach for Everyman Pictures and John Lyons. Poehler will serve as the comedy's executive producer alongside Jeff Richmond (A.K.A. Mr. Tina Fey) and Brian Bell.
THR reports Maya Rudolph will play a childhood friend of the duo, a role that might well echo her part in the smash hit Bridesmaids. I guess if it ain't broke…The Nest has begun production in New York City. Once she is wrapped on this comedy, Rudolph will head up to Boston to shoot Greens Are Gone, an indie drama by writer director Peer Pedersen. In it Rudolph will co-star with Catherine Keener. Ryan Eggold, Riley Keough, Cary Elwes, and Anton Yelchin will also appear.
Meanwhile Variety is giving us some clues to Fey's role in The Nest with their report of Madison Davenport's casting. The seventeen-year-old ingénue might be best known for her recurring roles on Shameless and Save Me, or perhaps from her series regular role on the From Dusk Till Dawn television series. In The Nest, Davenport will play the teen daughter of Fey's character, a girl described as "an artist who's angry at having to be the mother to her mother." So expect womanchild-style Fey.
As for James Brolin, Deadline reveals he has signed on to play the father of Tina Fey and Amy Poehler. No mention is made of who might play the pair's mother, or--stranger still--what part The Mindy Project's Ike Barinholtz is lined up to play.
Memorably, Poehler and Fey have previously co-starred in Baby Mama, the 2008 buddy-comedy written and directed by Michael McCullers. This was near the start of Fey's 30 Rock and predated Poehler's Parks and Recreation. Yet it was a box office hit that earned a warm reception for critics. Still, we're expecting bigger things from The Nest. With the pairing that lit up Weekend Update at the top of their game, this could be a major must-see. All we have to do is wait until December 18th, 2015, when The Nest will land in theaters.
Staff writer at CinemaBlend.
Your Daily Blend of Entertainment News
Thank you for signing up to CinemaBlend. You will receive a verification email shortly.
There was a problem. Please refresh the page and try again.