Meet Spider-Man's Tom Holland: 9 Awesome Things To Know About Him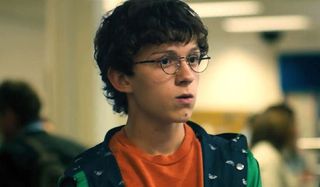 Movie-fans better get ready, because 19-year-old actor Tom Holland is about to become one of the biggest stars in the world. After a long and grueling casting process, it was revealed last year that the young British actor will be playing Peter Parker/Spider-Man in the Marvel Cinematic Universe, starting with Joe and Anthony Russo's Captain America: Civil War. Obviously this is a very big deal, with the star being the third live-action, big screen performer to take on the part, but the truth is that Holland's limited resume means that most people probably aren't too familiar with exactly who he is. Fortunately, we're here to help in his area.
To help you get to better know the actor who will soon be better known as Spider-Man, we've put together this fun little list to help you learn a bit about Tom Holland's past and past work. Want to get to better know the star? Read on to learn all about him!
He got his start thanks to Billy Elliot
It seems like there might be some kind of connection between the world of comic book movies and Billy Elliot. Jamie Bell, of course, played the famous role in director Stephen Daldry's big screen version of the story in 2000 – eventually going on to play Ben Grimm a.k.a. The Thing in Josh Trank's The Fantastic Four - but Tom Holland also emerged as a serious up-and-coming actor when he played the lead role in a 2008 run of Billy Elliot: The Musical that was performed in London's West End.
In fact, Tom Holland's performance was so notable that it actually wound up leading him to meet one of the most powerful men in the world. In a celebration of Billy Elliot: The Musical's fifth anniversary, Holland not only played the titular role in a very special presentation of the play, but also was given the chance to meet Gordon Brown – who was serving as Great Britain's Prime Minister at the time. It was a few months after this performance that the young actor decided to leave the great part behind and start pursuing some other big time work.
His first feature was an animated movie
Tom Holland is obviously making quite the impression in live-action (he's not going to be in Phil Lord and Chris Miller's animated Spider-Man movie as far as we know), but what's interesting is that Holland's first role in a feature film was actually as a voice actor. Prior to the 2011 UK release of Studio Ghibli's The Secret World of Arrietty, he was hired to provide the English dialogue for the part of Sh? (the male lead in the story originally played by Japanese actor Ryunosuke Kamiki).
In the cast, Tom Holland was surrounded by a number of very talented names, including Saoirse Ronan (as the miniscule titular character Arrietty), Olivia Colman (as Homily), and Mark Strong (as Pod). This, however, was only for the UK release of The Secret World of Arrietty - released by Studio Canal – as Disney hired a different crew of performers to lend their voices to the American version of the movie (with Wizards of Waverly Place's David Henrie playing Holland's role (the name changed to Shawn), and an expanded ensemble cast that also included Bridgit Mendler, Amy Poehler, Moises Arias, Will Arnett, and Carol Burnett.
His big break at the movies came in 2012's The Impossible
Obviously both Billy Elliot: The Musical and The Secret World of Arrietty were major projects for Tom Holland to be a part of as he began his career as a young actor, but it wasn't until 2012 that he got his first role in a live-action feature film that he started really getting attention from an international audience. Though the casting came with some controversy – the movie telling the true story of a Spanish family with Caucasian actors - Holland starred alongside Naomi Watts and Ewan McGregor in director J. A. Bayona's The Impossible, and first started gaining serious attention from a lot of people.
In the movie, Tom Holland starred as Lucas, the oldest brother in a family of five who wound up in serious danger while on vacation with his family in Khao Lak, Thailand in 2004. When the country got hit by a massive tsunami that wound up killing thousands, Lucas found himself stranded with his seriously injured mother – with no awareness of what happened to his father and two brothers. Not only did Holland earn massive critical praise for his turn in The Impossible, but it resulted in him picking up some serious hardware. Between 2012 and 2013, he wound up winning prizes from the National Board of Review, London Film Critics Circle Awards, the Empire Awards and the Young Artist Awards (all in a variety of different categories). The film seriously put Holland on the map, and the star's performance surely must have had an influence on Marvel Studios when they chose him to play Spider-Man.
You can find him on the small screen too
Tom Holland's career clearly seems to be taking him towards bigger and better things in the world of film, but what you may not know is that he's also been doing some work on television very recently as well. Last year, he had a recurring role in the award-winning BBC Two miniseries Wolf Hall, which saw him credited alongside the incredible talented likes of Mark Rylance, Damian Lewis, Mark Gatiss, Jonathan Price, Thomas Brodie-Sangster, and more.
Appearing in all six episodes, Tom Holland played Gregory Cromwell on Wolf Hall, who is the only son of Tudor statesman Thomas Cromwell (played by the Oscar nominated Mark Rylance). The series was a fictionalized take on how Thomas Cromwell rose to power during the reign of Henry VIII, and obviously the politician's son was a fairly important part of his life at that time. While Holland didn't wind up winning any awards or earning any nominations for his turn, the show won Best Miniseries or Television Film in 2016 at the 73rd Golden Globe Awards.
He's an incredibly talented gymnast
Spider-Man is unquestionably one of the most acrobatic, lithe, and energetic characters in all of Marvel Comics, and one major reason why Tom Holland was cast in the role for the Marvel Cinematic Universe is because the young actor most definitely has similarly incredible moves that he has demonstrated to fans time and time again via social media. Take, for example, the crazy flipping moves that he shows of in the Instagram post found below:
So how did Tom Holland start to acquire these very sick moves that should serve him well playing New York's favorite webslinger? Well, as you may have guessed, it all comes from his background in dance. At a young age he began taking dancing classes in England, and it was because of his skills that he wound up starring in Billy Elliot: The Musical. Even though his work with that particular title ended about six years ago, it's pretty clear that his training did not, and one can imagine that Marvel Studios was seriously impressed with the kid, knowing that they wouldn't have to fake Spidey's movements with a whole ton of CGI.
He worked with some great actors while screen testing as Spider-Man
An actor playing a major superhero character in the Marvel Cinematic Universe means not only being exceptionally well-suited for a particular role, but also having positive chemistry with the wide variety of other major superhero characters who also live in the same fictional world. This is obviously an area in which Marvel Studios has done exceptionally well in the last eight years, and it was also a huge part of the casting of Spider-Man. So how did the company make sure that Tom Holland was the right choice? They had him screen test with both Iron Man and Captain America.
Shortly after it was revealed that Tom Holland had landed the role of Spider-Man in the Marvel Cinematic Universe, a report came out acknowledging that a significant part of the casting process was screentesting with other major stars. In order to help them make their decision, Marvel got both Robert Downey Jr. and Chris Evans to run lines with Holland to make sure that they got the right guy. This makes sense given that the young star will be appearing with both actors in Captain America: Civil War - though what's unclear at this point is whether or not Spidey will actually get to spend any time with Cap or Shell head in the film – but we certainly hope that he will.
He beat out some serious competition to play Spider-Man
It took many, many months for Tom Holland to land the role of Peter Parker/Spider-Man in the Marvel Cinematic Universe – and while certainly a big part of that was both Marvel Studios and Sony making 100% sure they chose the right actor, another significant part of it was that the companies had an incredible lineup of young talent auditioning for the part.
There were plenty of rumors flying around all over the place during the whole casting process, but some of the most significant names in the game other than Tom Holland were Asa Butterfield, Judah Lewis, Matthew Lintz, Charlie Plummer and Charlie Rowe. For a while, it looked like the part was Asa Butterfield's to lose – the actor having more experience on the big screen and more notoriety than any of his colleagues up for the role. Many fans showed their support for Buttefrield getting the part – having previously impressed in films like Let Me In, The Road and War For The Planet of the Apes, but he dropped out of the race during the summer of 2015. Towards the end of the casting, it was reportedly down to both Holland and Rowe, though it was eventually decided to go with the former over the latter.
He's already worked with an Avenger before
When Tom Holland makes his debut as Spider-Man in Captain America: Civil War, there exists the potential for him to share screentime with some of the biggest stars in the Marvel Cinematic Universe, including Robert Downey Jr., Chris Evans, Scarlett Johansson, Anthony Mackie, Paul Rudd, Elizabeth Olsen, Don Cheadle, and Paul Bettany. If you can't wait until then to see some Marvel All-Star work, however, they good news is that you can get a preview of some early Marvel chemistry by giving Ron Howard's In The Heart Of The Sea a watch.
In the movie, which tells the true story that ultimately inspired the legendary tale of Moby Dick, Chris Hemsworth (best known to Marvel fans as Thor) is featured on one hell of a whaling expedition alongside Tom Holland – the former playing ship captain Owen Chase, and the latter playing Thomas Nickerson. The film didn't exactly set any box office records – taking in a total of $93 million worldwide – but it is an early look at two big superhero stars working together.
He has three other 2016 movies coming beyond Captain America: Civil War
Tom Holland obviously has a huge future ahead of him as Spider-Man, not only being featured in Captain America: Civil War, but also a brand new solo film starring the character that will be released in the summer of 2017. While both of these projects are obviously major deals, however, they don't represent the entirety of what Holland has been up to in recent months. In fact, he actually has three other titles that should be making their way to theaters in 2016.
None of the other movies on Holland's slate are anywhere near as big as Captain America: Civil War, but that doesn't mean that you shouldn't been getting ready for them without a special degree of anticipation. These projects include writer/director James Gray's The Lost City Of Z, director Brendan Muldowney's 13th century Ireland-set drama Pilgrimage, and writer/director Rob Connolly's thriller Backcountry. All of the movies are currently in post-production, and while none of them have specific release dates yet, one can expect that all of them will get a bump in notoriety once audiences get to see Tom Holland as Spider-Man.
Your Daily Blend of Entertainment News
Assistant Managing Editor
NJ native who calls LA home and lives in a Dreamatorium. A decade-plus CinemaBlend veteran who is endlessly enthusiastic about the career he's dreamt of since seventh grade.