Megan Fox Will Help Tarantino Reward Nerds At Scream 2009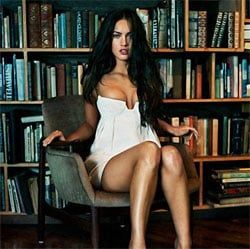 Spike TV is rounding up a bevy of big stars to celebrate the world of the genre films and television. Megan Fox, Hugh Jackman, Tobey Maguire, Quentin Tarantino, Liv Tyler, Sam Raimi, Elijah Wood, and Stan Lee (who never seems to have anything better to do) are all set to appear on your TV set October 27th for Scream 2009.
So what in the name of all that's strange and unthinkable are the Scream Awards? It's kind of like the Saturn Awards, but with hotter girls and far fewer nerds. It's on the Spike channel after all, there's every reason to expect Stan Lee to be forced to fight Jack Kirby in the Octagon. Apparently this is the fourth such event Spike TV has put on, but no one seemed to pay much attention before. Maybe that's because they didn't have Megan Fox's ass to trot out in front of the camera. Also in general, it seems to more intent on embracing horror end of genre entertainment, which is of course, a more socially acceptable type of nerdity. They're Eli Roth's kind of nerds, guys who like decapitated arms and rape scenes instead of dudes who like to play with space ships. Wait, that's socially acceptable? So that's what's wrong with the world.
If you're interested in making in making sure that Transformers: Revenge of the Fallen is rewarded for its giant testicles, then you can influence the who wins by heading over to Spike and casting a vote for your favorite genre entertainment.
Your Daily Blend of Entertainment News