Mel Gibson And Andrew Garfield Are Going To War, Here Are The Details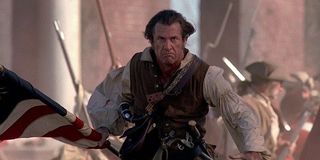 Mel Gibson is planning his next cinematic assault and he has convinced Andrew Garfield to come along for the ride with him. And if the appeal of Martin Riggs and Spider-Man teaming up together isn't enough for you, then hopefully the fact that their efforts will take place during World War II can convince you of the film's merits.
According to The Hollywood Reporter, Mel Gibson is set to step behind the camera once again for Hacksaw Ridge. The drama will tell the true story of Private First Class Desmond T. Doss, a war hero who picked up the Congressional Medal of Honor despite the fact that he decided not to bear arms on religious grounds throughout the war. Andrew Garfield would play Doss if he's cast, but at the moment discussions are still at a very early stage. Unfortunately it hasn't be announced if Mel Gibson himself will appear in the film. In the past he has both starred in and directed The Man Without A Face and Braveheart, but for his two most recent projects, The Passion Of The Christ and Apocalypto, he decided to remain strictly behind the camera. Hacksaw Ridge would be his first film he has directed since the release of the criminally underrated Apocalypto back in 2006. However, since then, Mel Gibson has remained in the public eye, but mostly for all of the wrong reasons.
So what would Hacksaw Ridge actually entail? THR notes that Desmond T. Doss was drafted into the armed forces in April 1942, just a few months after the United States of America had been attacked at Pearl Harbor by the Japanese. However, because of his beliefs as a Seventh-Day Adventist, he refused to kill anyone and he didn't even carry a weapon into battle. As you can imagine, this left him as an innocent bystander while the horrors of the war in the Pacific raged around him.
Subsequently he was turned into a medic, and he went on to save the lives of hundreds of his fellow soldiers. This allowed him to both serve his country while also adhering to his strict religious beliefs along the way too. Those of you who think that his decision to become a medic kept Doss out of harms way though are hugely mistaken. During the war Doss was injured twice and before he left the Army in 1946 he was actually diagnosed with tuberculosis and he had to lose a lung in order to survive.
Over the next five years, Doss underwent extensive medical treatment for both his illness and his injuries. In recognition of his endeavors, he was the first conscientious objector to ever receive the Medal Of Honor. It should make for some stirring material. And think what you want about Mel Gibson as a man, as a filmmaker he has delivered some of the most pulsating and captivating tales of the last 20 years.
Hacksaw Ridge looks as though it has all the materials for the Australian to add to his sterling back catalogue of efforts.
Your Daily Blend of Entertainment News
Thank you for signing up to CinemaBlend. You will receive a verification email shortly.
There was a problem. Please refresh the page and try again.