Melissa Mathison, Oscar-Nominated Screenwriter, Dead At 65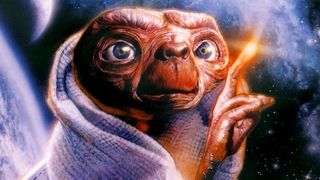 Hollywood has lost another big, important piece today, and this one is going to sting quite a bit, especially for those of you who came of age in the early 1980s. Melissa Mathison, the Oscar-nominated screenwriter of Steven Spielberg's beloved E.T.: The Extra Terrestrial, has passed away at the age of 65.
Mathison, who was also married to Harrison Ford for more than twenty years from 1983 to 2004—the pair had two children together—died on Wednesday in Los Angeles after battling an undisclosed illness, her brother, Dirk Mathison, told Variety.
In a statement released after her death, Spielberg, who credits Mathison with much of the success of E.T., said:
The two worked closely together on the concept for E.T., and Mathison also filled the role of associate producer on the picture alongside of current Lucasfilm president Kathleen Kennedy. Mathison also recently re-teamed with Spielberg, penning the screenplay for his upcoming adaptation of Roald Dahl's beloved 1982 children's fantasy book The BFG, about a fearsome giant who turns out to have a kind soul and is an outcast among his kind because he refuses to eat young boys and girls. She even scripted Spielberg's "Kick the Can" segment in 1983's Twilight Zone: The Movie, another formative event in many of our youths.
In addition to her notable work on E.T., one of the most beloved movies in modern memory, and her fruitful creative partnership with Steven Spielberg, including The BFG, Mathison had a particular soft spot for stories aimed at younger audiences. Her first credited screenplay was Carroll Ballard's 1979 adaptation of Walter Farley's 1941 novel The Black Stallion, and in 1995 she handled the screenplay for Frank Oz's adaptation of Lynne Reid Banks' 1980s children's fantasy The Indian in the Cupboard.
Mathison wrote the screenplay for Martin Scorsese's 1997 biographical drama Kundun, which follows the life of the 14th Dalai Lama from childhood as he grows older and must contend with Chinese oppression of Tibet. After coming into contact with the exiled political and spiritual leader, the two developed a deep and lasting friendship, and Mathison spent a great deal of time working as an activist for Tibetan freedom, including serving as a board member of the International Campaign for Tibet.
Born in Los Angeles in 1950, Mathison attended college at the University of California, Berkley. She is survived by her two children, Malcolm and Georgia Ford. Though she's gone, she'll always be remembered as new generations continue to discover E.T., and we'll have the chance to celebrate her legacy one more time when The BFG is released on July 1, 2016.