Two Clips From E.T. Celebrate The Film's 30th Anniversary Blu-ray Release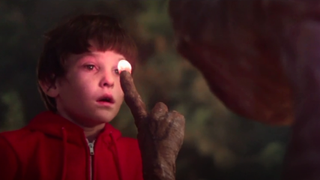 (Image credit: Universal Pictures)
Steven Spielberg's epic 1982 film, E.T. The Extra-Terrestrial, had its 30 birthday this year. To celebrate, Universal Studios Home Entertainment is bringing the film to Blu-ray for the first time ever. The set will hit homes on October 9, but until then, Universal has been kind enough to bring us a couple of clips from E.T.'s most poignant moments to share with avid fans.
The first clip follows one of Gertie and Elliot's earlier moments with the alien dubbed E.T. The epic "phone home" line is uttered and we get to see how E.T. gets his ideas from an unlikely source: a comic strip.
The upcoming E.T. The Extra-Terrestrial Anniversary Edition set won't be your average Blu-ray release. The flick will feature a brand new interview with Steven Spielberg, as well as a featurette called "E.T. Journals" which will include some never-before-seen footage from the set. You can check out the full list, below.
E.T. Blu-ray Special Features
The E.T. Journals:
Steven Spielberg & E.T. interview
Deleted Scenes
A Look Back: .
The E.T. Reunion
The Evolution and Creation of E.T.
The Music of E.T.: A Discussion with John Williams
The 20th Anniversary Premiere
Original Theatrical Trailer
Special Olympics TV spot
E.T. Designs by Production Illustrator Ed Verreaux
E.T. Designs by Carlo Rambaldi
Spaceship Designs by Ralph McQuarrie
Designs by Production Illustrator Ed Verreaux
Production Photographs
Marketing E.T.
Your Daily Blend of Entertainment News