Memento Is Getting Remade, Even Though It's Awesome Exactly As It Is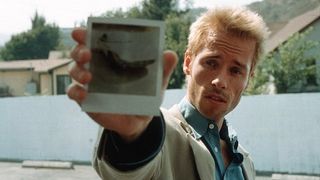 Riding high on the likes of The Dark Knight trilogy, Inception, and Interstellar, Christopher Nolan is one of the biggest filmmakers working today. That, of course, wasn't always the case, and in 2000, the little known director burst onto the scene with Memento, a twisted indie mystery thriller with a clever hook. Despite only being 15-years-old, and a movie that still totally holds up, Memento is getting a remake, because why not.
AMBI Pictures recently acquired the back catalog of Exclusive Media Group, a library that also includes Donnie Darko, Sliding Doors, Cruel Intentions, and hundreds more titles. According to The Hollywood Reporter, following this windfall, they gave a green light to the Memento remake. In a statement, AMBI head Monika Bacardi said:
With a remake like this, of a fairly well-known, fairly recent film, the biggest question is, as usual, what is the new movie going to bring to the table? Though it was a decent hit, especially by independent standards, and garnered Academy Award nominations, it wasn't massive, though it left a sizeable footprint on popular culture and has remained influential regardless.
The original film, directed by Christopher Nolan and co-written with his brother, Jonathan Nolan, stars Guy Pearce as a man with short-term memory loss. Unable to form new memories due to an injury, he uses an intricate system of notes, photographs, and even tattoos to keep facts straight as searches for the man who murdered his wife. Told in reverse order, the structure and approach were unique and innovative at the time, but it inspired so many copycats that, so many years down the line, it's going to be interesting to see if it still feels fresh or if we've grown weary of it by now.
Aside from the fact that a Memento remake is apparently happening, there's not much more to go on. It's still early in the going, and there don't appear to be many people involved just yet—there's no word on a writer, producers, director, that sort of thing—but you can be we'll be keeping an eye on this as it develops.
Your Daily Blend of Entertainment News
Thank you for signing up to CinemaBlend. You will receive a verification email shortly.
There was a problem. Please refresh the page and try again.