The 25 Best Movies Of The Last 25 Years, According To IMDB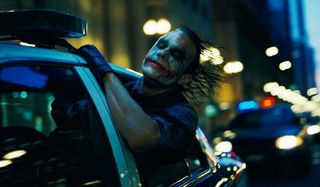 Audiences and the Academy don't always agree. If Oscar were the one true indicator, the "best" movies of the past 25 years would be Best Picture winners such as Birdman, 12 Years a Slave, Argo and The Artist. And while those are excellent movies, they aren't even mentioned on this new list of beloved movies selected by fans.
Vanity Fair broke down the movies that were selected as the top movie of each year by IMDB users. Interestingly enough, the films of Leonardo DiCaprio dominated the frame… even though the Academy has yet to recognize Leo's greatness. Christopher Nolan also performed very well with IMDB users, while familiar names like Quentin Tarantino, Steven Spielberg and Martin Scorsese also felt the love. If IMDB selected the year-end winners instead of the Academy, the "Best" movies from the past 25 years would look like this. Do you agree?
Goodfellas (1990)
Is Goodfellas Martin Scorsese's best film? That argument could be heard. It's certainly the most Scorsese of the director's pictures, bringing all of the trumped up Italian clichés and criminal beats that audiences associate with his work (whether unfairly or not). While countless gangster movies strive to escape from the shadow of The Godfather, Goodfellas managed to be its own vicious, unpredictable animal… which is what makes it so unforgettable.
Best Picture Winner: Dances With Wolves
The Silence of the Lambs (1991)
The movie to redefined Anthony Hopkins' on-screen persona, bringing the character of Hannibal Lecter back to the big screen (after he was portrayed by Brian Cox in Manhunter) and establishing a terrifying mentorship with Clarice (Jodie Foster). We never looked at fava beans the same way again.
Best Picture Winner: The Silence of the Lambs
Reservoir Dogs (1992)
I'm not sure the world knew how to react to Quentin Tarantino when Reservoir Dogs first hit. Characters rarely talked (or behaved) this way on screen. And the violence! Over the years, as Tarantino's legacy grew, Dogs landed on a pedestal, and few have knocked it from that perch.
Best Picture Winner: Unforgiven
Schindler's List (1993)
For the second time on this chart, IMDB agrees with the Academy, naming Steven Spielberg's personal, touching and masterful WWII drama as the year's best film. And given it's lasting impact, as well as the versatility it shows in Spielberg's oeuvre, it's hard to argue against Schindler's being on this, or any, list.
Best Picture Winner: Schindler's List
The Shawshank Redemption (1994)
The IMDB community loves Shawshank. For real. It was the highest-rated movie on the website for years, ahead of The Godfather and it's extraordinary sequel. Shawshank is very good. Let's not get carried away.
Best Picture Winner: Forrest Gump
Se7en (1995)
Much like Scorsese, Nolan and Tarantino, David Fincher is a filmmaker who seems to get more credit on the Web than he does in real life. Though he had a hit recently with Gone Girl, his films usually have to scratch and claw their way to box-office recognition. Se7en is dark, gritty, brutal but brilliant. It's a good call for 1995.
Best Picture Winner: Braveheart
Fargo (1996)
The legacy of the Coen Brothers' chilliest film to date (in every aspect of that word) can't be denied, as Fargo now continues as a hit cable television show. Go back, though, and watch the Master Class in acting given by William H. Macy. Best movie of 1996? You're darn tootin'!
Best Picture Winner: The English Patient
Life Is Beautiful (1997)
The only film better than Titanic that was released in 1997 was L.A. Confidential. After that, I'd hear an argument for As Good As It Gets, which was James L. Brooks recapturing some of his magic. Maybe Good Will Hunting, thanks to Robin Williams' devastating performance. Do you see which movie I haven't mentioned yet?
Best Picture Winner: Titanic
Saving Private Ryan (1998)
Shakespeare In Love is a wonderful movie that, unfortunately, gets unfairly shit on because it managed to defeat Steven Spielberg's relentless WWII drama at the Oscars. There's not reason not to love BOTH films, though only the Spielberg exercise escaped triumphant in the IMDB poll.
Best Picture Winner: Shakespeare In Love
Fight Club (1999)
I was going to talk about David Fincher's bleak, energetic and antagonistic cult classic in this space, but rules are rules.
Best Picture Winner: American Beauty
Memento (2000)
Glad to see IMDB users haven't forgotten how great Christopher Nolan's backwards mystery is/was. Forget. Get it? Get it?! Sorry…
Best Picture Winner: Gladiator
The Lord of the Rings: The Fellowship of the Ring (2001)
Give the chance to rectify history, Internet users would put all of their passion behind the opening salvo in Peter Jackson's lengthy trek through J.R.R. Tolkien's literary saga… a journey that he just recently wrapped up after three Hobbit films, as well.
Best Picture Winner: A Beautiful Mind
The Lord of the Rings: The Two Towers (2002)
Hmmmm. A trend here. Peter Jackson's continuation of his Tolkien adaptation connected with fans in a major way. Did the Internet not see Gangs of New York, though?
Best Picture Winner: Chicago
The Lord of the Rings: The Return of the King (2003)
OK, Internet, we get it. You loved Peter Jackson's LOTR trilogy. Moving on!
Best Picture Winner: Return of the King, finally.
Eternal Sunshine of the Spotless Mind (2004)
I love when Jim Carrey drifts toward drama. Eternal Sunshine retained some of his comedic touches, but also probed deep into the heart-wrenching pathos that often lie beneath Carrey's surface. Kate Winslet also was quirky and brilliant in this beautiful, offbeat romance.
Best Picture Winner: Million Dollar Baby
Batman Begins (2005)
Christopher Nolan rescues Bruce Wayne and his caped crusader from the neon nightmare of the Joel Schumacher era. The modern superhero movie genre is born. Or reborn. Either way.
Best Picture Winner: Crash
The Departed (2006)
The film that will forever be known as the movie that won Scorsese his long-awaited Oscar for Best Director. Over Raging Bull. And Goodfellas. And Taxi Driver. And Cape Fear. And The Last Temptation of Christ. And The King of Comedy. And Mean Streets. And…
Best Picture Winner: The Departed
Into The Wild (2007)
Really? I mean, Sean Penn's adaptation of Jon Krakauer's book had soul and contemplative grace. But was it a better movie than No Country for Old Men, Atonement, Michael Clayton or There Will Be Blood? Agree to disagree here, Internet.
Best Picture Winner: No Country For Old Men
The Dark Knight (2008)
The Internet's love fest for Christopher Nolan's Batman series continues (but isn't hot enough to sweep up The Dark Knight Rises… spoiler alert for the rest of this list). Some argue that The Dark Knight is the greatest superhero movie of all time. Debatable.
Best Picture Winner: Slumdog Millionaire
Inglourious Basterds (2009)
Tarantino goes to war with Brad Pitt and Eli Roth, introducing U.S. audiences to the delightfully sinister Christoph Waltz and, in the process, killing Hitler. That's a bingo!
Best Picture Winner: The Hurt Locker
Inception (2010)
Did the top continue to spin? Was it all a dream? Would the nightmare of a Nolan-free Oscar ceremony finally be over? Nope. Tom Hooper took home the top prize, as movies like this, Black Swan, the Fighter, The Social Network, Toy Story 3 and 127 Hours lost out. Laughable.
Best Picture Winner: The King's Speech
The Intouchables (2011)
An unusual year, as a black-and-white, silent picture charmed the industry, but a kind-hearted French crowd-pleaser worked its way into the hearts of IMDB voters. Hollywood is trying to remake Olivier Nakache and Eric Toledano's winning drama. My advice? Leave it alone.
Best Picture Winner: The Artist
Django Unchained (2012)
Tarantino attacks the institute of American slavery, but unleashes a smoldering Jamie Foxx against a despicable Leonardo DiCaprio (and a vile Sam Jackson). There was blood.
Best Picture Winner: Argo
The Wolf of Wall Street (2013)
Audiences seem to enjoy Marty Scorsese when he's dabbling in the excesses of crime, drugs, sex and overall debauchery. I wonder what that says for Silence?
Best Picture Winner: 12 Years a Slave
Interstellar (2014)
More love for Christopher Nolan, who is the undisputed king of IMDB… and, perhaps, the entire Internet. Just don't ask the Academy what they think of him.
Best Picture Winner: Birdman
This poll is no longer available.
Your Daily Blend of Entertainment News
Sean O'Connell is a journalist and CinemaBlend's Managing Editor. He's frequently found on Twitter at @Sean_OConnell. ReelBlend cohost. A movie junkie who's Infatuated with comic-book films. Helped get the Snyder Cut released, then wrote a book about it.
Your Daily Blend of Entertainment News
Thank you for signing up to CinemaBlend. You will receive a verification email shortly.
There was a problem. Please refresh the page and try again.