Christopher Nolan Issues A Bleak Warning To Movie Theaters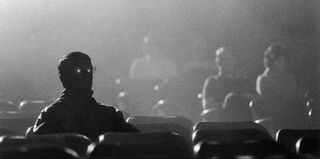 British filmmaker Christopher Nolan issued a bleak warning to movie theaters while speaking at the London Film Festival regarding the future of cinema. While taking the opportunity to extol the virtues of film over digital, Nolan warned that the theatergoing experience needs to improve to match the value of the moviegoer's swollen ticket price.
According to The Guardian, Nolan told the audience that they could no longer simply stick a giant TV in a room and expect people to come watch film on it. He said:
Nolan, director of such epic films as Memento, Interstellar, and The Dark Knight trilogy, lauded fellow auteur Quentin Tarantino for paying out of pocket to have film projectors installed in 100 movie theaters across the country on which to show is latest film The Hateful Eight. He told the audience that most viewers don't understand that when a movie that was originally shot on film is transferred to digital, it is only ever going to be a translation of the original with much of the texture and depth of the experience left behind.
Nolan also argued for the restoration of film as the primary medium of movie making, taking a stand against the commonly accepted narrative that film is significantly more expensive than digital, and explaining that the nuances of film are inherent to the medium itself and allow for a richer experience for the movie goer. To Nolan, those nuances are irreplaceable, and cannot simply be overcome with solid storytelling. He continued:
Nolan's speech was delivered during an LFF Connects discussion seminar co-sponsored by the British Film Institute. A charity governed by a Royal Charter, the BFI combines cultural, creative, and industrial roles, bringing together the BFI National Archive and BFI Reuben Library, film distribution, exhibition and education at BFI Southbank and BFI IMAX, publishing, and festivals. In addition to funding film production, distribution, education, audience development, and market intelligence and research, the BFI's Film Forever program works to advocate traditional filmmaking methods through education, supporting the British film industry, and unlocking film heritage.
Your Daily Blend of Entertainment News