Meryl Streep's Suffragette Drama Will Be First To Film In Houses Of Parliament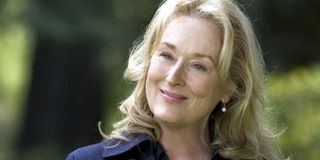 The historical drama Suffragette just got a huge boost to its production value thanks the United Kingdom's Houses of Parliament. British Parliament members have made the unprecedented decision to allow the Meryl Streep-boasting narrative to shoot on its hallowed and instantly recognizable grounds, meaning Suffragette will be the first film production to have ever shot there.
THR reported this exciting news, pointing out that all previous versions of the U.K.'s Houses of Parliament you may have seen in movies or television shows were in fact sets. This allowance means the production will move into Parliament and shoot over Easter recess.
We can safely assume Suffragette director Sarah Gavron is thrilled by this historic news, but she's not alone. Film London and British Film Commission chief executive Adrian Wootton, whose very job description means pushing the arts and historic sites of the nation, said:
Suffragette focuses on the burgeoning feminist moment of the early 20th Century. We first caught word of the project last month when 18-time Academy Award nominee Meryl Streep joined the project along with acclaimed Irish actor Brendon Gleeson. But as Wootton alludes above, these are not the only exciting talent attached to the project. The cast also includes such noteworthy British performers as Carey Mulligan, Helena Bonham Carter, and Ben Whishaw. Behind the camera, there's some stellar talent as well.
Director Sarah Gavron has one prior narrative feature to her credit, her compelling and critically heralded drama Brick Lane, adapted from the novel by Monica Ali. Check out its trailer below.
Suffragette was penned by Abi Morgan, Emmy Award-winning writer of The Hour and co-writer of Steve McQueen's daring sex-centered drama Shame. In the vein of penning historical drama, she's previously written another Meryl Streep vehicle The Iron Lady, a biopic on controversial Prime Minister Margaret Thatcher, as well as The Invisible Woman, a biopic that shed light on Charles Dickens' mistress Nelly Ternan.
Suffragette is now in production. It is slated to open in the UK on January 16th, 2015. No US release date has yet been set. But with Streep on board, it seems safe to bet that it will at least hit Stateside in a limited release.
Your Daily Blend of Entertainment News
Staff writer at CinemaBlend.