Mexican Woman Arrested For Masturbating During Fifty Shades Of Grey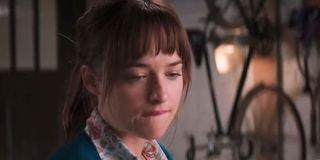 Not shockingly, Fifty Shades of Grey is again making headlines. This time, however, it wasn't due to the controversial content of the erotic drama, or for its breaking box office records. Instead, this story is about the poor choice one female fan made while watching the film. While you would think everyone knows at this point that masturbating in public is frowned upon, try telling that to the Mexican woman who allegedly decided to do exactly that during a screening of Fifty Shades of Grey.
Earlier this week, in a quiet, dark movie theater in Sinaloa, Mexico, a woman reportedly got a little too excited while watching Sam Taylor-Johnson's Fifty Shades of Grey. According to La Verdad (and translated from Spanish), the 33-year-old, who was sitting in row 12 (not sure why that was reported), was spotted by fellow movie-goers who apparently saw the woman apparently pleasuring herself. Soon after, the police were called and the "offender" was hauled off in... yep, you guessed it... handcuffs. We're just going to go ahead and declare that a fitting end to the story.
This is far from the first attention-getting incident sparked by the edgy romance pic. A few days back, a rambunctious group of teenagers, upset that all the PG-13-rated films were sold out, stampeded an AMC theater in the West Oaks mall in Florida for a viewing. Then there was that California drive-in theater that caused a ruckus when customers at a neighboring K1 Speed Go-Kart Track were indirectly treated to a screening of the BDSM fest. And let's forget about the man who was allegedly attacked by three drunk women in a Glasgow, Scotland theater during a screening of the Dakota Johnson and Jamie Dornan-led film. Like that of the masturbating female above, the event also concluded with incarceration.
As you can see above, Fifty Shades of Grey has certainly been at the center of a number of controversies. Although this alleged masturbation situation appears to be an isolated incident, it wouldn't be too shocking to learn other Fifty Shades theater attendees may be partaking in the same exhibitionist behavior - albeit a little more covertly. Check out some of the numbers people threw out when Funny Or Die asked them the number of times they masturbated while watching the film:
Fifty Shades of Grey was written by Kelly Marcel (based upon E.L. James' best selling novel) and directed Sam Taylor-Johnson. Check it out in theaters now.
Your Daily Blend of Entertainment News