Michael Fassbender Sings With Us And Dishes On Frank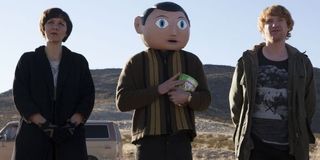 In the Irish dramedy Frank, Michael Fassbender stars as an undiscovered musical genius whose deep eccentricities include wearing a giant paper mache head at all times. His accomplices in his quest to musical perfection include Clara (Maggie Gyllenhaal), a passionate and sometimes violent Theremin player, and Jon (Domhnall Gleeson), a pencil pusher turned keyboard player desperate to become famous.
After premiering at Sundance earlier this year, Frank hit a slew of film festivals from SXSW to Istanbul, New Zealand to Jerusalem. Now at long last it's coming to theaters in the U.S. and to celebrate, the film's cast and director Lenny Abrahamson sat down with us to talk about what goes on in that big paper mache head of Frank and what makes Fassbender, Gleeson and Gyllenhaal tick. Here's what we learned:
Michael Fassbender is an unrepentant goofball. Yes. He's an insanely sexy man who has built a reputation playing steely and intimidating characters. But if his performance as the free-spirited Frank isn't enough to convince you of this actor's playful nature, you have to watch the video above in full. Paired with co-star Domhnall Gleeson, Michael Fassbender came to play, breaking into song, giggling and gently teasing his interview partner.
To prepare for Frank, Fassbender played chess, the game, not the musical. There was some confusion on this point, as you can see play out above. Gleeson told me he listened to Joe Duffy, and Fassbender interjected, "I played a lot of chess. I didn't listen to anything; I was in a chess hole." He clarified that he did listen to Iggy Pop, but not his music, his interviews. When I admitted I thought he'd meant the musical Chess, Fassbender broke into a short improvised song, before realizing there is a chess musical. Then we briefly sang "One Night in Bangkok" together. Like you do.
Fassbender and Gleeson karaoke together, disagree on how good they are at it. After our impromptu duet I joked that the three of us should go to karaoke, only to discover the pair had gone just recently. "We did the worst 'Irish Rover' that ever happened," Gleeson recalled. "I thought it wasn't bad!" Fassbender rejoined. "It was great," Gleeson corrected himself, "I mean, we both connected to the--yeah."
Domnhall Gleeson is officially excited about Star Wars. That is all he'll say about it as his contract is insanely specific on this point. Regardless, he welcomed some advice from Prometheus star Fassbender on how to place himself in a sprawling outer space saga.
Click on to hear Frank co-star Maggie Gyllenhaal's thoughts on Fifty Shades of Grey!
Frank's cast recorded the movie's music live. Paired with Maggie Gyllenhaal, director Lenny Abrahamson told me the screenplay from Jon Ronson and Peter Straughan described the music Frank's band plays as "beautiful and ridiculous at the same time." With composer Stephen Rennicks, Abrahamson began feeling out the sound of the Soronprfbs. But the actors were what brought the sound to life, playing live and embracing the strange but lovely style they'd had outlined. For Abrahamson it was crucial "that we really create a proper band. It was a leap of faith…proudly I feel that the band in the film is something I can believe. And a lot of that down to Maggie and the rest of the cast."
Maggie Gyllenhaal learned to play the Theremin for Frank. I would have believed her if she had told me it's just a skill she'd picked up along her path of unconventional artistry. She also learned how to play the Moogs and synths that Clara favors in the film. "Miles Davis's MIDI guy taught me the synths," she offered. But when it came the Theremin, she demurred about her accomplishments. "Luckily, I didn't have to play any of it with great precision because I'm playing someone who is trying to make noise," she said. "I think the idea was that Clara could do whatever she wanted on those instruments, but I couldn't do whatever I wanted on them. But I got into how to make the sound I wanted."
Abrahamson interjected before Gyllenhaal could play down her talents, "But there are beautiful pieces of Theremin playing in the film which are from…the live takes that you really played. So you were able to play really beautiful melodic stuff on the Theremin." With a laugh Gyllenhaal put that up to luck.
Gyllenhaal's Clara is a Godard character in her own mind. In coming up with the look for the pugnacious Theremin player, Gyllenhaal and Abrahamson had discussions about Clara being anti-fashion, "super severe" with a ponytail. But ultimately they decided on a look that was romantic but squalid. "I guess I thought Clara thinks she's in a Godard film or like a French New Wave movie all the time. But instead she's in like a muddy cabin in Woodrow…Her clothes are super dirty and probably she hasn't washed them…but she lets people open the door for her." Gyllenhaal summarized, "If you can choose have style or not have style, have style!"
The inspiration for the look of Frank's head was not Fassbender, but Buster Keaton. Lenny Abrahamson said the design process for Frank's paper mache head involved a lot of variants of small model heads. Fassbender's actual face was never a reference point. Ultimately, they settled on the one you see in the film from pulling from the silent film era's slapstick. "What's good about the head we chose," he explained, "we felt that it's got this sort of naiveté to it and a simplicity. It's on the border of a kind of gentleness but also slightly startled…I'm a big fan of early Hollywood physical comedy and there's something about the Stan Laurel or the Keaton or the Chaplin that although they were real faces they were also sort of masks."
Maggie Gyllenhaal is curious about the Fifty Shades of Grey movie. But that's about it. She's hasn't read the book. She hasn't seen the trailer. But she knows people are associating it with her breakout romance The Secretary, as fans have been tweeting at her about it. "I'm sure it'd be a great pleasure," she said of reading the erotic novel, "I should totally read it…I'm curious about it. First of all I should probably read the book. I would probably have a lot of fun…I'm interested that it's making people think of Secretary. I don't know anything about it."
Frank opens August 15th in select theaters.
Staff writer at CinemaBlend.
Your Daily Blend of Entertainment News
Thank you for signing up to CinemaBlend. You will receive a verification email shortly.
There was a problem. Please refresh the page and try again.