Fifty Shades Of Grey Trailer The Most Viewed Of 2014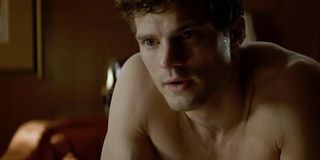 This weekend, the box office will be dominated by the marvelous appeal of Guardians of the Galaxy, a superhero tent pole that is earning wildly emphatic critical praise. But when it comes to winning the interwebs, that honor goes to a far saucier property. And it did it with plenty of sex appeal.
THR reports that Fifty Shades of Grey's trailer has already amassed the most views of 2014, more than 36.4 million since it debuted on July 24th. These numbers were tabulated by the tech firm Zefr, which gave a breakdown of the runners-up as well. As you might expect, all of these were summer releases that boast loads of action and usually star power. Teenage Mutant Ninja Turtles' first trailer has earned 31 million views. Godzilla and Transformers: Age of Extinction's trailers each amassed 26.3 million views in their first weeks online. And lastly, Dumb and Dumber Too hit the 23.5 million mark.
Notably, both of the movies listed above that have already open have been hits. The $160 mil Godzilla made an impressive $498 mil worldwide, while the $210 mil Transformers: Age of Extinction raked in $966 million to date. So, you might assume that Fifty Shades of Grey is headed for a massive box office debut of its own. However, that would be overlooking the complicated relationship viewers have with online videos. Because of course, not everything we watch is something we're looking forward to. Sometimes, it's something we're looking to ridicule.
The Fifty Shades of Grey book series has been a massive, inarguable success and a pop culture phenomenon that made erotica an acceptable topic for morning television and casual conversation. But while it was wildly popular, its lackluster prose drew lots of derision and laughs. A movie adaptation seemed both inevitable and sure to earn a bit of backlash. So into the fray of fans eager to love and lust over the Fifty Shades of Grey versus haters of the emerging franchise comes the first trailer, made to play right before Lucy, a female-fronted film that was expected to appeal to audiences of both genders.
What I'm saying is, the Fifty Shades of Grey trailer likely earned views from both those who are looking forward to the film's release, as well as those who are already rolling their eyes over it. In that way it's not unlike the trailer of Teenage Mutant Ninja Turtles, a movie reboot that has been riling fans well ahead of production. Yet it's trailer view beat out TMNT's. Personally, I was more aligned to the latter camp. I tried to read Fifty Shades of Grey out a sense of pop culture dedication. But honestly, I couldn't get through the prose that was painfully amateurish and uninteresting. So I was curious but not especially excited for the first trailer. Then I saw it.
I got chills. My ambivalence vanished. Director Sam Taylor-Johnson gave a clunky read a cool visual style, but most importantly, she recognized the crucial yet all-to-often ignored female gaze. Anastasia Steele asks Christan Grey to look at her, but in the trailer Taylor-Johnson invites us to look and lust after him. It's hot. And of course that steamy take on "Crazy in Love" doesn't hurt.
This poll is no longer available.
Fifty Shades of Grey opens wide on February 13th, 2015.
Your Daily Blend of Entertainment News
Staff writer at CinemaBlend.
Your Daily Blend of Entertainment News
Thank you for signing up to CinemaBlend. You will receive a verification email shortly.
There was a problem. Please refresh the page and try again.