Mike Epps Is The Frontrunner To Star In The Richard Pryor Biopic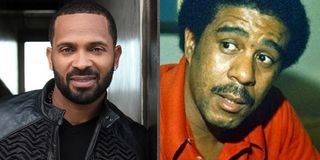 A Richard Pryor biopic has been on Hollywood's to-do list for years, even though the project has repeatedly fallen apart in the hands of capable filmmakers and studios. Recently, Lee Daniels got involved, and the lead role became a part highly in-demand for a number of leading male comedians. But only now does it look like the production has found its star, and it's actually a very familiar face.
Deadline reports that Mike Epps is the frontrunner to play Richard Pryor in the coming Lee Daniels-directed biopic. Epps reportedly blew Daniels away during auditions held at The Weinstein Company studios, beating out a list of contenders that included Michael B. Jordan, Marlon Wayans and Nick Cannon. Additionally, those actors might have been auditioning with Kate Hudson and Anne Hathaway, both of whom are frontrunners to play Pryor's widow, Jennifer Lee Pryor.
Epps was actually the first choice of Pryor himself when the late comedian was last involved with the project nine years ago, right before his passing. That was back when Walter Hill was writing and directing the movie. Later, Marlon Wayans was the pick for director Bill Condon, who was putting together the project at Adam Sandler's production company Happy Madison. Another previous choice for the role was Damon Wayans. No one, it stands to reason, has ever selected Nick Cannon for the role. It's unclear as to whether Epps is still Pryor in the planned Nina biopic. Here's Pryor in his prime to give you an idea of what sort of energy he'll need to bring to the screen.
Before you start believing this news as firm fact, the final decision has apparently not yet been made, even if Epps is everyone's first choice. Jordan seems like the odd man out, given that there are doubts the young actor can play Pryor in his later years. And Marlon Wayans has the chops to keep him around, as he still has some supporters in Pryor's camp.
It's always difficult when making a biopic, because you're never fully certain if audiences are going to go for a retelling of the life of a celebrity everyone already knew. The recent Get On Up was proof that sometimes a great story and a stellar lead performance isn't necessarily a guarantee that you can keep an audience. What's different here is that Epps is a funny guy, a career standup who has been featured in movies for quite a while. If audiences can laugh along with the film and forget that Pryor was a larger-than-life figure that looms over this film, this could be a major movie.
Your Daily Blend of Entertainment News
Thank you for signing up to CinemaBlend. You will receive a verification email shortly.
There was a problem. Please refresh the page and try again.