Mike Tyson Documentary Picked Up By Sony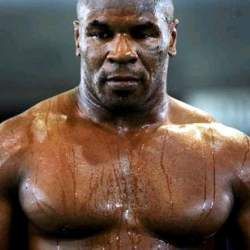 Given the critical success of The Wrestler, it was only a matter of time before stories of heavyweights and grapplers popped up more often on the screen. But James Toback has beaten everyone else to the punch, debuting his documentary Tyson at Sundance this year. And his movie, about heavyweight boxer Mike Tyson, has already outdone its competition by getting picked up by Sony Pictures Classics before the festival even begins.
Tyson already played at the Cannes Film Festival last year, winning the Un Certain Regard Knockout Prize, which means it was already going to be one of the most anticipated Sundance offerings. The movie is described as a portrait of a "humbled" Tyson, a concept so unbelievable-- Mike Tyson, humble?-- that it's got to make a great movie. Check out more information about the movie in the press release below, and see if you're as amazed at I am that Mike Tyson could be anything other than a belligerent and self-aggrandizing interview subject.
SONY PICTURES CLASSICS CONFIRMS ACQUISITION OF JAMES TOBACK'S TYSON
FILM WILL MAKE ITS NORTH AMERICAN PREMIERE AT THE SUNDANCE FILM FESTIVAL
NBA ALL- STAR CARMELO ANTHONY COMES ONBOARD AS EXECUTIVE PRODUCER
New York. January 9, 2009. Sony Pictures Classics confirmed the acquisition of North American rights to writer-director James Toback's (FINGERS, BUGSY and TWO GIRLS AND A GUY) acclaimed documentary, TYSON (winner of the Un Certain Regard's Knockout Prize at the Cannes Film Festival). TYSON will have its North American premiere later this month at the Sundance Film Festival. In addition, NBA All- Star Carmelo Anthony comes onboard the film as an executive producer. Anthony is joining producers Damon Bingham, Harlan Werner and James Toback, who shepherded the project from inception. Inspired by his love of movies and the art of filmmaking, Anthony recently founded Krossover Productions, a broad range production company that will focus on all genres of film and TV. TYSON is the first film the company is involved with.
TYSON is acclaimed indie director James Toback's intimate and moving no-holds-barred portrait of a humbled Mike Tyson told in the words of the former heavyweight champion. In TYSON, Mike Tyson examines his own life in and out of the ring with a candor, eloquence and vulnerability that is by turns poignant, funny and never less than brutally honest. Through a deft mixture of original interviews and archival footage and photographs, a surprisingly complex, fully-rounded human being emerges. The film ranges from Mike's earliest memories of growing up on the mean streets of Brooklyn through his entry into the world of boxing, including his rollercoaster ride through the funhouse of worldwide fame and his fortunes won and lost. TYSON offers much more than a documentary about a former heavyweight champ -- it is the story of a legendary and uniquely controversial international athletic icon, a figure conjuring radical questions of race and class, and a man who arose from the most debased circumstances and soared to seemingly unlimited heights, followed by destruction generated by hubris, like a character out of classical tragedy.
In a statement Toback says, "The effort to portray a complex, internationally iconographic figure in a stylistically originally way has proved a far more ambitious, but far more satisfying task than I had envisioned when I started shooting over two years ago. I trust Michael and Tom, whom I have known for twenty years, to send out and guide the film with passion, intelligence and twists of invention."
Sony Pictures Classics released the following statement, "Tyson is an important movie and an important cultural document. James Toback is at the peak of his form. We look forward to bringing this film to the American public."
Staff Writer at CinemaBlend
Your Daily Blend of Entertainment News
Thank you for signing up to CinemaBlend. You will receive a verification email shortly.
There was a problem. Please refresh the page and try again.