Miley Cyrus And Ashley Greene's Teen LOL Goes Into Production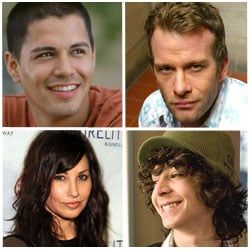 Ready to be drowned in teenage comedy stereotypes? I hope so because according to Coming Soon, LOL has officially gone into production. Just a month ago we got a taste of what's to come when we first heard that Twilight's Ashley Greene joined the cast. Major adolescent draw. Also on board? The teen queen herself, Miley Cyrus. Even with Demi Moore's name on the roster it's still quite tempting to dismiss this one off as a formulaic high school drama. The official synopsis doesn't help, but the new additions to the cast might.
Catch all of those added names there? We reported on Thomas' casting a few weeks back, but Douglas Booth, Adam Sevani, George Finn, Ashley Hinshaw, Lina Esco, Tanz Watson, Thomas Jane, Jay Hernandez, Austin Nichols, Gina Gershon, Fisher Stevens and Nora Dunn are all new to the production. The younger cast members are basically unknowns expect for Sevani who you might recognize from Step Up 2: The Streets and can catch in the upcoming installment, Step Up 3D. I don't care if it means this movie comes with a corny prom dance routine, I wouldn't mind seeing Sevani showing off his skills.
The adult ensemble, however, is full of famous faces and quite impressive. Jane is always a pleasure to look at as is Hernandez, and Moore has the pleasure of spending some time with both. Her character's situation basically sounds like a screen version of her Willis-to-Kutcher swap. I lost a lot of faith in Nichols after The Informers, but the guy still rocks on One Tree Hill, so I can't hold it against him. As for Gershon, I'm not familiar with much of her on screen work, but did happen to catch her performance in Bye Bye Birdie on Broadway. The show sucked, but she wasn't half bad. Lastly there's Stevens and Dunn who are probably the least familiar nowadays, but have delivered some impressive pieces in the past, my favorite of which are Super Mario Brothers (yes, I loved it as a kid and still do) and Three Kings respectively.
Perhaps we shouldn't be writing this one off just yet. Plus it might be wise to check out the 2008 French version before passing too much judgment on this American remake.
Your Daily Blend of Entertainment News
Staff Writer for CinemaBlend.