Minions Is Absolutely Destroying The Box Office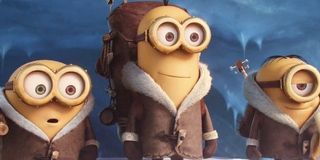 When the box office numbers arrived for Universal and Illumination's animated prequel Minions, jaws dropped. There was no doubt that the little yellow henchmen would do very well opening weekend, but a record breaking performance? Well Sandra Bullock and her minions dominated the box office nabbing the title of the second-biggest weekend of all time for an animated title.
With a $46.2 million debut on Friday, which is the best opening day in history for an animated film in North America, and according to The Hollywood Reporter, the family-friendly prequel quickly rose to a $115.2 million debut. Up against other openers, horror film The Gallows and Self/Less this weekend, Minions left its competition in the dust. And since the studio only spent about $74 million for the Despicable Me prequel (which is a relatively modest number when it comes to animated features) they are seeing quite the success.
Minions still holds second to Shrek the Third which continues to hold the title for the largest three-day debut of all time with a $122.5 million, but beat out Toy Story 3 which had taken in $110.3 on their opening weekend. The only other animated feature to even cross the $100 million threshold in its first weekend was Shrek 2 at $108 million.
Overseas Minions has been increasingly successful too. The title rolled out in select markets two weeks ago and is already a blockbuster earning more than $200 million. Compared to the last installment to the Despicable Me franchise in 2013, Minions still boasted higher results, though comparisons can be difficult considering Despicable Me 2 debuted over a long Fourth of July Weekend, which brought in a high $143.1 million, but only $83.5 million as the three-day take.
The animated feature will undoubtedly continue to grow, as the franchise has become increasingly popular among the younger generations. Critically, Minions is taking in much harsher reviews than its previous Despicable Me installments, but does have star power attached to set it apart. Minions tells the origin of the funny-looking henchmen known to serve many of the renowned villains throughout history from Dracula to T-Rex to Napoleon. But while their dedication to their masters in unquestionable, they are not the best at their jobs, and often their antics result in the demise of their masters. The latest film focuses on three of these yellow creatures, who have headed to a supervillain convention in search of their latest boss. There they meet Scarlet Overkill, voiced by Sandra Bullock, who could just be exactly what the destructive trio have been looking for.
Your Daily Blend of Entertainment News
Thank you for signing up to CinemaBlend. You will receive a verification email shortly.
There was a problem. Please refresh the page and try again.