Minions Is Going To Make An Insane Amount Of Money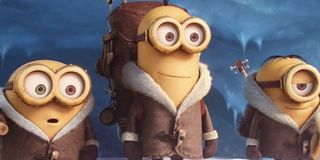 Universal's decision to release Minions into a variety of territories several weeks before it hit US cinemas seems to have worked wonders, because early tracking figures for it suggest that the spin-off to the Despicable Me franchise is going to make a huge amount of money.
Minions was released in Australia and Indonesia earlier this week, and according to Deadline the film has made a very impressive start in these countries. Even though it was only released in just 461 locations, it has so far managed to gross $987,716.
It's no surprise that Minions has started things off so well in these nations, though. $602.7 million of 2013's Despicable Me 2's $970.7 million box office total was amassed overseas, and both Universal and Illumination are confident that Minions will continue the success of the franchise in an emphatic manner. It's also been predicted that Minions could be one of the few summer films that actually open to over $100 million this summer.
So far, only Furious 7, Jurassic World, both of which were also Universal, and Avengers: Age Of Ultron, which opened domestically to $147 million, $208.8 million and $207.4 million, respectively, have managed that feat. Now, Minions isn't expected to get anywhere near to these gargantuan sums. But it is thought that the animated sequel's vast appeal to young children and families alike should help it make a major splash.
It's also thought that Minions will easily outdo its one main animated rival this summer at the box office: Inside Out. Jurassic World's monumental debut last weekend, which saw it eventually take in $524.1 million across the world in its opening three days, is expected to extend into a second weekend, where it has been predicted that it will take in at least another $100 million.
This means that Inside Out's estimates are at a reasonable $60 to $70 million. But it also means that Pixar's 15th animated adventure will be the first to not enter the box office charts at number 1 (likely). However those of you who are worried that this might have an adverse effect on the future plight of original work from the studio shouldn't worry – because it's widely believed that Inside Out will have an elongated success over the next few weeks that will see it hit an impressive sum.
Reviews for Minions have started to trickle out ahead of its July 10 release date, and, so far, they've failed to match the critical acclaim that has befallen Inside Out. But the small, yellow creatures are just so adorably yellow and small that that won't stop it toppling Riley's emotions at the box office. You should still immediately see Inside Out now that it's in cinemas across the country. Because it really is just as good as everyone says it is.
Your Daily Blend of Entertainment News