The New Minions Trailer Is Adorable And Full Of Spunk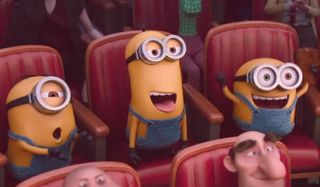 We already got a look at Scarlet Overkill, voiced by Sandra Bullock, in the Despicable Me prequel earlier today, but now you can see her in action in the new Minions trailer. This supervillain knows how to make an entrance, but let's be honest, she totally stole this move from Tony Stark's playbook.
Per the Minions trailer, which dropped on iTunes, those "adorable little freaks" are heading to something called Villain-Con, where all of the world's nastiest criminals come to mingle and show off their skills. Why the government doesn't just ambush and arrest them all at once is beyond me, but that's neither here nor there at this point. The minions are in search of a new supervillain to serve, and three members of the group — Kevin, Stuart and Bob — set out to find him or her. That's when they stumble upon Scarlet Overkill, who seems to be the villain equivalent of Iron Man of the Despicable Me universe. Her grand entrance at Villain-Con is a little too reminiscent of the one Robert Downey Jr. made in the beginning of Iron Man 2.
Otherwise, the new Minions trailer makes the film seem like an adorable journey we want to take. That being said, something like this makes me think of Arrested Development's continuation on Netflix. Each episode centered around a single character, giving maximum exposure to everyone's favorites. It seemed like a good idea, but infortunately, this format was unentertaining and proved that it was the ensemble nature of the show that was part of its inherent genius. This brings me back to Minions. These animated Twinkies provide some of the funniest moments of the entire Despicable Me franchise, but are they funny enough to headline their own spin-off? Or do they need someone else to draw the brunt of the focus while they misbehave in the background?
Fortunately, Sanda Bullock's Overkill seems like a good fit for this kind of film. Aside from her doting supervillain husband (Mad Men's Jon Hamm), she also has an array of gadgets to play with, from the hypnotizing helmet to the lava gun. It's also intriguing to finally get the origin story of these hilarious creatures, but at the same time, it seems like the film will only briefly touch upon that. Based on the previews we've seen already, a film like this could easily revert back to the Despicable Me formula except with Overkill in place of Steve Carell's Gru. If you think of Despicable Me as Destiny's Child, then Minions is Beyonce, leaving her group behind to pursue her own career. All said and done, we wouldn't be surprised if Minions proved itself successful and became the new model of continuing the franchise for many years to come.
Your Daily Blend of Entertainment News