Minions Just Broke A Massive Box-Office Record Overseas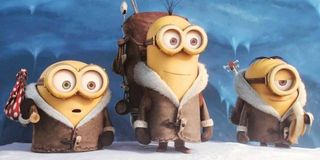 Minions is still over a week away from hitting U.S. cinemas, but it's already amassed quite a chunk of cash overseas, which suggests that it's going to be a huge success once it finally does. In fact, it's made so much money that it both knocked Jurassic World off the top of the box office in the U.K. and opened to the biggest total ever for an animated feature film in merry old England.
The Hollywood Reporter confirmed that Minions took in the amount of $18.2 million across the pond, which was more than double what Jurassic World amassed. The reason for that is probably because this is the third week that Jurassic World has been in cinemas. But that shouldn't downplay just how successful Minions has already been for Universal and Illumination Entertainment.
The aforementioned total is higher than any other animated feature film has reached, and in order to claim this coveted title, Minions surpassed the $18 million mark that Toy Story 3 set in back in 2010. We're still not quite sure how inflation will alter this, but, for the time being at least, those adorable yellow Minions should be unintelligibly yelping and screaming with joy.
Minions impressive box office figures in the U.K. comes off the back of its sensational opening few days in Australia, Indonesia, and Brazil, where the film broke animated records in each successive territory. This suggests that Minions is going to be just as resolutely successful as its predecessors Despicable Me and Despicable Me 2 were. And if it can come close to the latter's $970.6 million haul then Universal will be exceedingly happy.
Even though Jurassic World was toppled by Minions, it's still all good news for Universal. That's because the studio financed both of these pictures. Meanwhile Jurassic World's $76.6 million gross in the U.K. means that it's the most successful film there since 2012's Skyfall, which is yet more proof that Universal has had a ridiculously good 2015 thus far.
The likes of Fifty Shades Of Grey, Jurassic World, Furious 7, and Pitch Perfect 2 have each come from the studio over the last 6 and an a bit months, and these movies have taken in a combined total of $3.6 billion across the world. And we've still got half of the year to go. This means that Universal executives are currently strutting like a Minion in a thong, an image you can see below.
If you live in the U.S. and want to see the above in motion, you have to wait until Minions is released on July 10th.
Your Daily Blend of Entertainment News