Mission: Impossible 5 Trailer Is Action-Packed And Explosive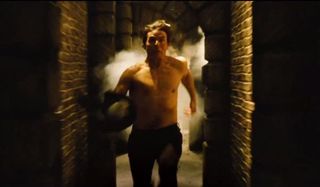 Mission: Impossible 5 is having a huge day today as they not only announced the official title of the upcoming film, Mission: Impossible - Rogue Nation but also gave us our first look at the action-packed trailer. The new footage teases Ethan and company taking on their most impossible mission yet. Take a look:
With a title like Rogue Nation you know that there is going to be an epic showdown occurring in the spy film. And with Tom Cruise reprising his role as Agent Ethan Hunt, the kick-assery follows suit. The above footage, which was unveiled as a TV spot during the 2015 NCAA basketball games, shows Agent Ethan Hunt getting into some trouble. There are grand escapes, explosive motorcycle chases, attractive women, and even Tom Cruise holding for his dear life aside a massive airplane. It seems like the fun never stopped, even though it has been more than three years since we last saw an impossible mission take the big screen.
Much of the storyline had been under wraps up until now, but as seen through the trailer, it looks like Hunt and his team will have to take on a highly-skilled rogue syndicate intent on destroying them. As Simon Pegg's Benji Dunn puts it, the rogue syndicate is 'anti-IMF'. Knowing that the main antagonist is Sean Harris, it is safe to assume that he is some sort of leader of this "Rogue Nation". Alec Baldwin makes a quick cameo as the Head of the CIA who is of course on the lookout for good ol' Hunt. There's also a new female lead, Rebecca Ferguson, who looks like she'll be a great addition to the Mission team. Returning to their previous roles other than Pegg and Cruise are also Jeremy Renner as William Brandy and Ving Rhames as Luther Stickell.
We are still getting bits and pieces of the plot line as we near closer to the release date. Tomorrow we can expect a full length trailer that will surely give us even more perspective into the mission at hand.
Aside from the awesome footage though, the title Rogue Nation is causing quite the stir. Paramount had been holding the official title most likely due to Disney's latest title for their upcoming Star Wars spin-off film, Rogue One. According to THR, Paramount had registered and cleared the Mission: Impossible 5 title long before Disney announced the Star Wars title. Because sources claim that Disney didn't clear the title ahead of time, the two studios quickly worked a deal where Disney will refrain from referring to Rogue One in promotional materials this summer, leading up to the release of Mission: Impossible - Rogue Nation in July (with the exception of a Star Wars fan event next month).
Expect more action-packed footage to drop tomorrow in the full length trailer, and get ready for the impossible hitting theaters July 31, 2015.
Your Daily Blend of Entertainment News
Thank you for signing up to CinemaBlend. You will receive a verification email shortly.
There was a problem. Please refresh the page and try again.