Mission: Impossible 5: Watch A Character Actually Make A Good High Heel Decision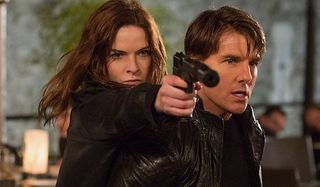 The perennially pulse-pounding franchise somehow manages to upgrade the action with the quickly-approaching Mission: Impossible – Rogue Nation. In the film's latest clip, moviegoers who inexplicably yell unsolicited advice at filmed footage of fictional characters might be left silent regarding one movie trope: running in high heels. Check out the video below to see what we mean.
It probably comes to no one's surprise that, as this official Rogue Nation clip shows, Tom Cruise's Ethan Hunt and his mysterious, dangerously dazzling new cohort, Ilsa Faust (Rebecca Ferguson), are on the run from black-suited rent-a-thugs, likely trained with Stormtrooper-like aim. Yet, in this briefest of clips from one of several action sequences, the rarefied element of practicality has been found amongst these characters. Clearly dressed to kill (probably literally,) Ilsa makes her exit alongside Ethan as the belle of the deadly ball by wisely ditching those fashionable, but encumbering clackers on her feet. It's real-world thinking that's so refreshing you almost expect her to whip out a pack of Mentos and mug for camera.
So, why are Ethan and his sexy secret agent friend being pursued by these assailants? Well, in keeping with the Star Wars metaphors, it seems that some sinister forces have implemented the "Order 66" stratagem, using the often-fickle court of public opinion to make Ethan and his team at the IMF (Impossible Mission Force) into personae non gratea when it comes being anywhere in the civilized world. Now, Ethan and his ragtag infiltration group are forced into the position of having to clear their names and expose the criminal cabal behind their framing. Thus, there's going to be quite a bit of on-the-run action in this thrilling sequel.
Of course, when it comes to Ethan's aforementioned partners in crime, the band is, indeed, back together as the franchise's stealthy Scooby Gang, consisting of Luther Stickell (Ving Rhames), Benji Dunn (Simon Pegg), and William Brandt (Jeremy Renner,) have all returned. They'll help Ethan pull off some of the intense, mind-blowing sequences taking place all around the world that the trailers have already hinted at. Contradicting conventional logic, this is one action series that not only fails to get stale, but ages like a fine wine… laced with a lot of caffeine.
The film is under the directorial vision of, Christopher McQuarrie, who first impressed us 20 years ago with his script for The Usual Suspects and has become one of Tom Cruise's favorite collaborators as of late. They worked together on 2012's Jack Reacher, which McQuarrie directed, and 2008's Valkyrie and 2014's Edge of Tomorrow, both of which he wrote.
Mission: Impossible – Rogue Nation showcases spectacular action sequences along with sensible footwear choices when it hits theaters on July 31.
Your Daily Blend of Entertainment News