New Mist Images And TV Spot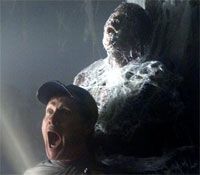 You'll only want to see it once (because it's brutally depressing… in a good way), but next weekend you absolutely must see The Mist. Don't give me that "I only download movies" excuse. That's bullshit. If you love movies, then this is the kind of movie you need to see in a theater. Frank Darabont's horror flick is a revelation, one of the best movies of the year and the most emotionally draining things I've seen in years. Don't miss it.
We have some new visuals from Stephen King's The Mist for you. Check out new stills in our photo gallery below, and below that we've got a brand new TV spot from the film. Click. Watch. Go buy tickets. You're a fool if you miss out on The Mist.
Your Daily Blend of Entertainment News
Thank you for signing up to CinemaBlend. You will receive a verification email shortly.
There was a problem. Please refresh the page and try again.