The Moment When Will Smith Finally Decided To Do Bad Boys 3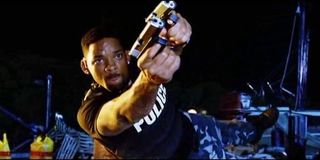 When Zoolander 2 opens up wide this weekend, it will have been fifteen years since the previous movie, which introduced the world to Blue Steel and really, really, ridiculously good looking male models. But it's not the only long-in-the-works sequel on the way, not by a long shot. We haven't seen a Bad Boys movie since 2003, but Bad Boys 3 is happening, and star Will Smith says it was one moment that solidified his decision to return to the franchise.
Will Smith has been in the news a lot recently for a variety of things, from his role in the NFL head trauma drama Concussion, his part in the upcoming supervillain team up Suicide Squad, and he's even become embroiled some in the controversy over the lack of diversity at the Academy Awards. But he's also going to make Bad Boys 3 before long, and when he stopped by BBC Radio recently, he shared the one moment that really drove home that he was going to make that movie. He said:
It's been well over a decade since we last saw the adventures of detectives Mike Lowrey (Will Smith) and Marcus Bennett (Martin Lawrence), but you have to imagine that though they may be a bit older and wiser, they'll still have that same bromantic relationship that made the first two movies so much fun. For a quick refresher, Lowrey is a trust-fund kid who does the cop thing for the adrenaline rush, while Marcus is a neurotic family man, but together they've foiled various drug dealers and Miami ne'er-do-wells.
Check out the entire interview below.
We don't know a ton about Bad Boys 3, but while the two leads will likely be the same—you can't have a Bad Boys movie without the titular bad boys, now can you?—other key components will be very different. The first two films were directed by Michael Bay—Bad Boys was his first feature—but the last we heard, The Grey's Joe Carnahan was in talks to take the helm. We haven't heard much on that front for a while, but it would be a marked contrast in styles.
Though Joe Carnahan has done big action spectacles in the past, most notably The A-Team, he tends towards a grittier style of action. He could be a great fit for Bad Boys 3, but he definitely brings a different aesthetic approach from Michael Bay's frenzied, frenetic directorial bravado.
Bad Boys 3 is already scheduled for a February 17, 2017 release, so if they stick to that, we'll likely hear more about it soon.
Your Daily Blend of Entertainment News